Mt. Hanuman Tibba (5932 m) Expedition
Manali, Himachal Pradesh
10 Nights/11 Days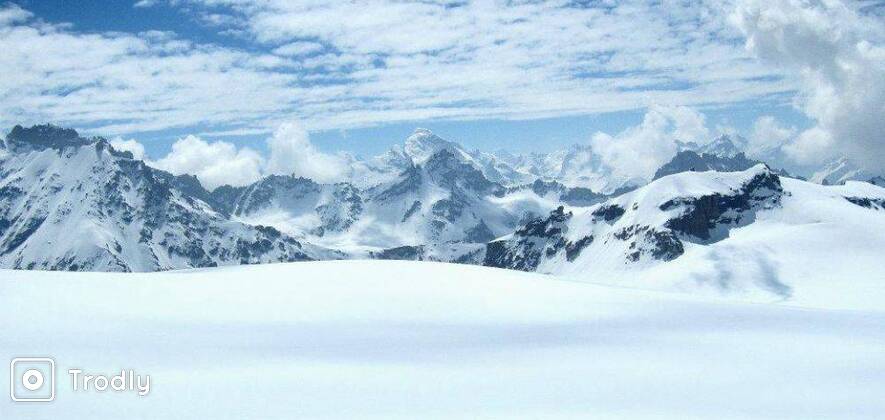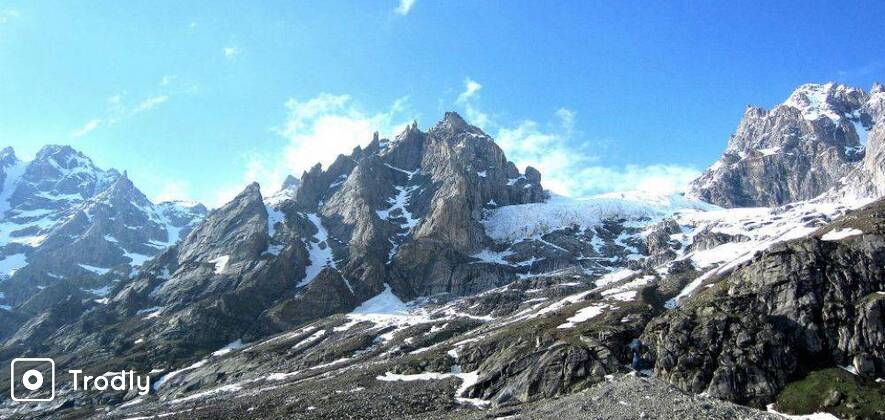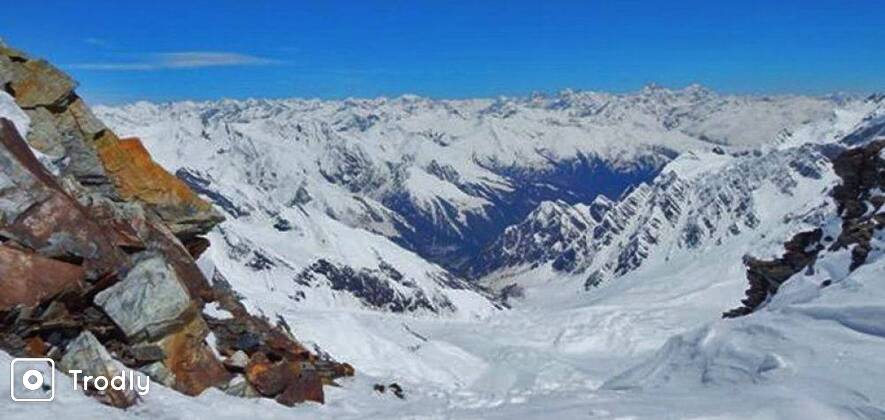 Duration
10 Nights/11 Days
Overview
Located to the north of Manali and at the western side of the river Beas stands Mt. Hanuman Tibba, with a pyramid shaped dome the mountain stands at a height of 5932 meters. This captivating mountain has a giant north face, flutter walls, rocky cliffs and icy faces.
Mt. Hanuman Tibba, also known as Solang Weissorn, was first scaled in 1912 by Gen C .G Bruce's chief swiss guide – Henrich Fuhrer and a gurkha soldier Lal Bahadur. This party and their english employers also made the first exploratory ventures towards Indrasan (then nameless ) and Deo Tibba. Mt. Hanuman Tibba was not climbed again until 1966 (Joint Indo -British expedition under R.G Petigrew.)
The traditional route of Mt. Hanuman Tibba is from Solang Nullah. Lake Beas Kund (3540 m) is the best place for the Base Camp of Expedition. From here one can clearly see the next tough route of Tentu Pass (4996 m). The next camp is usually sets up in the Tentu Pass.
Tentu Pass is the mixture of snow, ice and rock with the gradient up to 75° to 80°, which makes the climb difficult and exhaustive. After Tentu Pass a traverse to the mountain leads us from North – West ridge to South – East ridge. During this traverse climber has to face lots of crevasses in the glacier. At the end of traverse just before the South – East ridge we will set up our summit camp.
The last phase of climb is from Summit Camp to summit which includes the climb of South- West face which later meets the South- West ridge and finally summit.
Itinerary:
Day 1: Reception at Kullu-Manali airport/ bus stand by team arrival at our camp site/ cottage. Rest after refreshment explore Manali dinner and stay at 'dA Base', Haripur, Manali.
Day 2: Drive to Dhundi (2hrs) and then start walking to Bakarthatch (5hrs) overnight stay in tents
Day 3: Bakarthatch – Beas kund overnight stay in tents at Beas kund - camp 1
Day 4: Day for acclimation overnight at camp 1 Beas kund.
Day 5: Camp1 to camp2 via Tentu pass
Day 6: Camp2 to camp 3 (trek)
Day 7: Camp 3 to summit – back to camp 3 - overnight stay at camp3.
(additional day for summit if weather conditions are bad.)
Day 8: Camp 3 to Camp 1
Day 9: camp 1 to base camp
Day 10: base camp to Dhundi , to dA Base. Overnight stay at dA Base in Manali.
Day 11: Drop to Kullu – Manali airport by 7:00 am.
If travelling by bus, spend the day at leisure, go angling in the river Beas (some nice spots near our base) or just unwind and relax.
Drop to bus stand by 4 pm.
Inclusions
2 nights stay at 'dA Base' located in an orchard in Haripur, Manali.
Pick up and drop from Patlikuhl bus stand, Manali
Stay in 2-3 men tents during trek.
All meals during the trek (nutritious freshly cooked vegetarian)
Services of experienced MOI/ BMC qualified lead guide and qualified assistant guide
Kitchen equipment, cook and helper
All the Camping arrangements
Porterage – pony/porter for your personal belongings (in the luxury package)
Wildlife/ environmental permits and other permits & levies.
All transportation as per itinerary in local cars and jeeps
'Leave No Traces' protocol charges.
Guaranteed amazing Himalayan experiential adventure holiday.
Exclusions
Cost of travel to and from Manali from your city
Cost of any form of insurance (Personal/Baggage/Medical)
Cost of rescue, evacuation, hospitalization, etc.
Any expenses of purely personal nature like laundry, phone/Fax calls, tips to drivers, guides, any beverages.
Any expenses that arise due to change in itinerary and increase in no. of days because of natural forces like landslides, weather, roadblocks, flight cancellations, sickness etc.
Nominal cost for bonfire, barbeque and all meals at our base in Haripur (choice of veg/ non-veg).
Cost of any optional activity we offer, like paragliding, angling, rafting etc.
Important Info
ESSENTIAL INFORMATION
Visit to IMF in Delhi mandatory for foreign nationals to get the necessary documentation & permissions.
After the expedition/ adventure journey - de briefing in Manali.
Insurance: It is a condition of joining our trips that you must be adequately insured. All persons are expected to arrange their own insurance. Polices should cover any potential risks involved in such adventure.
Our camps and Cottage: We provide you very comfortable tents with maximum possible facilities in the mountains. For the trekking, Jeep Safaris, MTB and other adventure journeys, we provide the most luxurious camps fitted with dining areas and modern toilet facilities.
Maps: We have excellent maps, images and movies of majority of our adventure expeditions/ journeys and sports. A short briefing in our offices is highly recommended so the team understands logistics, forecast problems and know where the solutions would be. We stress on planning, planning and planning in any adventure expedition and till now we have remained successful in all of our expeditions just because of our planning. So we need you to be an active part of it.
Rescue and Helicopter Evacuation: if the expeditions are well planned, rescue operations can be avoided. For any helicopter rescue operations, normally the expenditure for these operations is paid by the insurance companies if the guest is insured. But Guest taking this adventure tour must be covered under travel insurance and the insurance should also include adventure travel and repatriation by a helicopter.
Incase guest doesn't have any risk insurance for adventure travel and repatriation by a helicopter charges, then in such a case of emergency we would want a written guarantee from the foreign office and the guest's travel agent that in such a case all the expenses incurred in rescue operation, extra cost immediately would have to be paid by the guest / foreign office or guest's travel agent in advance or as soon as the operation is over as per requirement of the helicopter company or the Army
Peak booking formalities: For necessary applications either you can check the website of IMF or speak to us.
Ground transportation: We provide the ground transportation comprising of best available cars/ coaches in fine roads and rough trucks in remote areas of the Indian mountains.
Porters and ponies: We provide ponies till base camp and HAP/ LAPs as per the requirement of the expedition.
Fuel and gases: Fuel (after BC) is not a part of cost included section, but we will manage Butane / Butane propane gases for you on your timely request.
Meals: We offer a mixture of nutritious vegetarian and non-vegetarian food.
Ground Support system: We have fantastic ground support system developed in collaboration with the local people of nearest villages, army camps, porters and local guides. Our BC staff is trained to keep information of the groups at ABC and between and act as per the situation.
Cancellation
We understand life can be unpredictable at times, and that plans can change.
From confirmation up to 30 days prior to departure - 10% of the total amount payable would be charged
Between 15 - 29 days – 50% would be refunded
Less than 15 days prior to departure 100%.
In case of unforeseen weather conditions or government restrictions, certain activities may be cancelled and in such cases we will try our best to provide an alternate feasible activity. However no refund will be provided for the same. For last minute emergencies we offer future trip credits on a case by case basis.
Note: -
All programs are subject to change due to political reason, natural calamities, serious sickness, and special reasons.
Please note that cancellation charges also apply to reductions in group size, not only for cancellations of entire bookings.
We might be forced to change/modify the itinerary and also reserves the right to do so, due to unforeseen disruptions by natural forces. If any costs increase due to this change, the client would be requested to pay the additional amount in Manali.
Frequently Asked Questions

(FAQs)
No Booking or Convenience Charge!
Other Exciting Activities