If Kolkata is termed as food capital of India! Then Delhi should definitely be termed as restaurant capital of India. Delhi is a hub of restaurants where in every who can corner you witness such yummilicious cuisines. From theme based to cuisine based, Delhi offers some great array of restaurant, and here we bring the 20 best restaurants in Delhi.
Thereby below are some of the list of ultimate food hubs in Delhi to die for!
1) Indian Accent
Not only it is registered in the "top restaurant list in Delhi" but also in Asia! The simple Indian ingredients with a style of urban-hood make this place to longed for
From duck khurchan to simple dishes Indian accent is a place for all foodaholics. One must try dal murdabadi, mitha achaar, pork ribs, and potato shere chat.
Location: Lodhi Rd, Pragati Vihar


Cuisine: Contemporary Indian


Cost: ₹4,500 for two (approx)
2) Gung the Palace
One to indulge in Korean flavor, Gung the Place! Is your palace with an extensive range of Korean wine, rice beer and soju, the place signifies its incredibility. Nonetheless, the karaoke lives and low seating gives the customer an authentic Korean experience.
If you are longing for family dinner this place suits the best!
Location: Green Park




Cuisine: Korean




Cost: ₹2,500 for two (approx)
3) Guppy
Located in Lodhi colony, Guppy is an ultimate destination for Japanese lover with fresh curated menu in every month, the place defines its range of food culture. With its ranges of shakes to the antique décor, the place certainly fetches you in world of Japan
One must try pork belly, house salad and mushroom gyoza for enjoying a casual dinner.
Location: Lodhi Colony


Cuisine: Japanese 


Cost: ₹2,900 for two (approx)
4) Yum Yum Cha
Right from the founder of Yum Yum tree, Yum Yum Cha is another creation to treat for.
The ranges of sushi with unique style make the place much approachable. The restro is famous for various cuisine charts which should be a definite try. If you are in the list of sushi cravers, then Yum Yum Cha is your place.
Location: Khan Market & Select City Walk


Cuisine: Pan Asian


Cost: ₹1,800 for two (approx)
5) Town Hall
Yet another sushi hub in Delhi to try for! With a cozy setting and vibrant decor, the place befits best for dining. From Japanese, Thai, Italian to Asian. The place catches eyeballs through every corner of Delhi. They also have a sushi bar relishing every food lover.
Certainly a perfect place to celebrate a perfect date!
Location: Khan Market


Cuisine: Japanese, Thai, Italian, Asian


Cost: ₹2,500 for two (approx)
6) Bukhara
As go by the name Bukhara is an absolute and finest eatery in Delhi! Listed in the best Mughlai and north Indian restaurants, Bukhara is to die for. The Dhaba ambiance and range of dishes will give you a roller coaster ride of food and emotion!
P.S: if you want to taste best butter chicken in Delhi then Bukhara is your hot seat.
source: itchotels.in
Location: Chanakyapuri


Cuisine: North Indian, Kebabs


Cost: ₹2,900 for two (approx)
7) The Great Kebab Factory
The exquisite and signature cuisines of 'The Great Kebab Factory' are to devour for!
As the name suggests, it's a heaven for kebab lovers. The servings are unlimited for both vegetarians and non-vegetarians. The desserts are equally good and you can't forget it easily. What's most interesting is the fabulous buffet menu, which is perfect for large groups. The lip-smacking mutton galouti, bhuna murg tikka are flavorsome, juicy, succulent and is highly recommended.
Savor your authentic meal surrounded by vibrant colors with both an ethnic and contemporary flair. Pay a visit and you'll be treated like a King with endless serving of everything.
Location: Multiple Outlets


Cuisine: North Indian, Mughlai


Cost: ₹3,000 for two (approx)
8) Shang Palace
The heaven-on-earth for food-lovers! From well-defined cocktails to some excitingly prepared culinary, experience the most celebrated dishes from the royal kitchens. If you're a fan of Asian food or want to taste Indian-style Chinese, then is your go-to spot!
The elegant decor of the restaurant, mouth-watering delicacies and excellent service will make your day.
What's more? Well, you can even customize your own food!! Isn't that great? It's the most popular dining option for movers and shakers of the city, so do book a table before arriving. Just a suggestion: Do not leave the place without trying the desserts.
Location: Connaught Place


Cuisine: Chinese


Cost: ₹4,000 for two (approx)
9) Thyme
Unleash the foodie side in you when you visit here! The dining facilities, food, hospitality and the larger-than-life ambience in this multi-cuisine restaurant will instantly lighten up your mood. Feed your taste buds with the mouth-watering Indian, Chinese, Italian, Continental and Oriental cuisines.
It's the one-stop destination for the drink-lovers and they serve the world's best classic malts, Cocktails, Mocktails and Wine. Drop in anytime and enjoy your heart out.
Location: Samalkha, Kapashera


Cuisine: North Indian, Chinese, Continental


Cost: ₹1,800 for two (approx)
10) Masala Library
"The Kohinoor in the Capital"! If you're a foodie and a decor lover, then this is a must try! The place has its own charisma with an Indian fusion menu that will leave you filled with pure bliss, happiness and only praises. They provide two options, Al-Karate and Set menu. The most unique is the '19 course meal' which is definitely worth a try! Every dish served on the platter is extraordinary and mind-blowing and you will be yum struck!
It's modern! It's magical! The price is totally worth a penny. Don't believe us? Then go and check out for yourself!
Location: Connaught Place


Cuisine: Indian


Cost: ₹2,900 for two (approx)
11) Gulati
Craving for the best butter chicken in town? Then your search ends here. Super classy ambiance and delectable food. 'Gulati' is already famous among foreigners for its spicy and juicy chicken dishes.
If you're in Delhi and looking for different and out of the world experience, then this is it !
Location: Pandara Road, Near India Gate


Cuisine: North Indian, Mughlai, Kebabs


Cost: ₹1,900 for two (approx)
12) Tashan
This joint stays in their unique 'Tashan' when it comes to gourmet dining experience. An ideal place to unwind at! Known for serving North Indian cuisines with spicy and aromatic indulgence paired up with soothing music corner will certainly calm your soul. 'Tashan' is a must try if you want to satiate your craving for finger- licking Indian food.
Note: The cheesy Broccoli is the perfect option for cheese lovers.
Location: Greater Kailash II


Cuisine: Contemporary Indian


Cost: ₹1,500 for two (approx)
13) Owl is Well
This is a Mama Mia delight for pizzas! The pizzas served here are fresh, thin crust and properly baked with a good size. And to top it all you may choose your own crust, sauces, and toppings and can make your own pizza for relish.
What else do you want? Your hunger craving will certainly come to an end once you enter here. Try the Belgian chocolate shake and you can't just stop talking about its thick blend yum filling! If you are looking to satiate hunger pangs with tasty, hygienic food at nominal price, 'All is Well with Owl is Well'!!
Location: Greater Kailash I


Cuisine: Burger, American, Fast Food, Italian, Pizza


Cost: ₹1,000 for two (approx)
14) Naivedyam
Treat your taste buds anytime with South Indian flavor at Naivedyam! The courteous staff, ambiance and music make this restaurant to get listed in "20 best restaurants in Delhi".
From Idli Sambhar to Mysore Dosa and chutneys, executes the place with Kerala comfort! Don't forget to pair it with buttermilk to soothe the quench for food!
Location: Hauz Khas


Cuisine: South Indian


Cost: ₹ 500 for two (approx)
15) Dakshin
Pay your visit at Dakshin at anytime to taste the authentic foods of Dakshin.  Perhaps one of such restaurant where you will get finest food all over the peninsular India!
Foods from Andhra Pradesh, Tamil Nadu, Karnataka and Kerala will create splendor treat. One of the interesting fact is the use of vessels 'urli' and 'adukku' emphasizing the rich culture. Definitely a must visits to kindle the sensation to a bygone era!
Location: Saket


Cuisine: South Indian


Cost: ₹4,000 for two (approx)
16) Mahabelly Restaurant
One of the new yet popular Keralite food hub to soothes the glutton for every seeker!
The place is so called as it represents from the Onam festivals King Mahabali. The restaurant features foods showcasing Kerala's rich food trove. One must try Konju Polichathu, shapu meen curry and sweet coconut dosa. To pair it up one must take the staple food of Kerala 'kappa'.
Perhaps it's a one stop destination with wide range of Kerala Dish!
source: chiclifebyte.com
Location: Saket


Cuisine: Keralan, South Indian and Seafood


Cost: ₹1,200 for two (approx)
17) Eau de Monsoon
If you are in search for contemporary yet Indian platter 'Eau de Monsoon' is the gateway!
The restaurant represents a unique yet flavor of modern India making it more approachable. From appetizers to scrumptious dessert the restaurant embraces its customer in a modern and innovative way.
Location: Connaught Place


Cuisine:  Continental, European, North Indian


Cost: ₹4,500 for two (approx)
18) Baluchi
A classic restaurant with royalist ambiance captures the customer with its lavish world. If your like-chart is to consume authentic Indian delicacies Baluchi is your ideal seat!
From vegetarian to non-vegetarian, seafood to Mughlai and South Indian, the place is a lot more to experience!
Certainly one of the finest place to visit and to get listed in '20 best restaurants in Delhi'!
Location: Connaught Place


Cuisine: Indian


Cost: ₹4,000 for two (approx)
19) Neung Roi
One of the most recognized restaurant in Delhi! Perhaps the most endorsed restaurant by food critics. Moreover, it is registered as the best Thai restaurant in India by Thai embassy.
One of the most interesting fact is the menu which is curated from the four regions of Thailand. With its lush interior and vibrant room and yummilicious food Neung Roi should be a must try!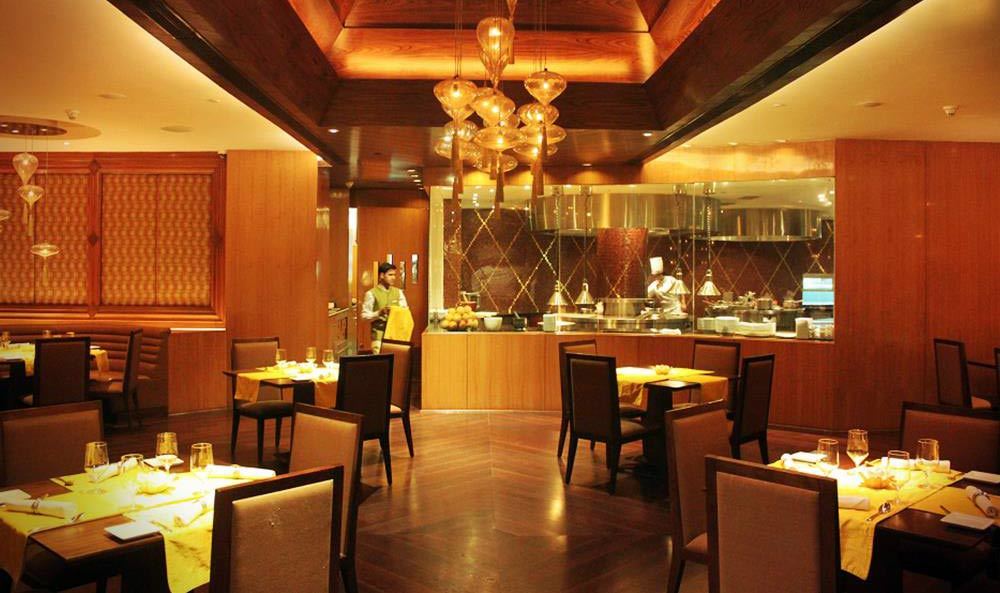 Location: Mahipalpur


Cuisine: Thai 


Cost: ₹2,900 for two (approx)
20) Tian-Asian Cuisine Studio
In one word "Tian-Asian Cuisine Studio" is the 'Yum Raj' of Delhi. With its exotic flavor of Korean, Japanese, Chinese and South East Asian the place squeezes out ecstasy of food!
The place got its fame with the experimentation of food which create a unique niche to its localities.
With a simplify appearance and undefined flavorsome the place creates an identity of its own.
Location: Chanakyapuri


Cuisine: Pan Asian


Cost: ₹7,000 for two (approx)
In Nutshell it is your food destination places in Delhi to go gaga over trend restaurants and taste lip-smacking cuisine! Open your heart out and jump over this awesome delicacies!