Travel is incomplete without good food. Right? Perhaps the other side of the coin when describing a perfect tour! And when you are travelling to an exotic land like Sri Lanka, food should be essential in your to-do-list. As it is through food we sketch the cultural background of a place. so we list up some of the best restaurant in Galle that you must visit while in the town.
With its colonial building and cobbled-stone streets, Galle presents some of the well-fitted restaurants. With remarkable mixture of local, international cuisines with seafood, Galle is a place for every Foodaholics!
Thereby I insist, scroll down the page to get accustomed with some of the best restaurants in Galle!
1. Fortaleza
journeyceylon.com
If you want to fringe yourself with shady restaurant and cozy tables in midst of a courtyard. Then this it!
Certainly a perfect place to grandeur yourself having a perfect dinner in Galle! The ecstasy of colonial aura with euphoric aroma of good food befits every food-lover. The signature element of the restaurant is its friendly atmosphere with its lip-smacking cuisine. Fortaleza is definitely is one of the must try restaurant in Galle!
Drop here anytime…! And treat your taste buds with Sri Lankan cuisine with a pinch of Singaporean twist.
Don't forget to pair it up with wine or cocktail at Fortaleza!
2. Wijaya Beach Restaurant
wijayabeach.com
Looking for beach fun accompanied with appealing food? Wijaya Beach restaurant is your savior. Inaugurated in the year 1980, since then this beach restaurant is go to for every food-lovers and nature lovers.  The beach front restaurant, the bar and the contemporary plate agglomerate the visitor into its best term. Moreover, the iconic beach (Dallwella) has a reef hat creates a lagoon which makes a safe swimming activities.
The place is an absolute bliss! With a perfect admixture of food and breathtaking ambiance.
Thus registering its name as one of the best restaurant in Galle.
3. Pedlar's Inn Cafe
pedlarsinn.com
Driven by hunger? Then you must visit and relish in Pedlar's Inn Café!
The exquisite interior of terracotta, Irish-Pub and comfy seating catches the eyeballs instantly. With a wide range of western cuisines, the place makes a perfect modern dine venue in Galle. Perhaps the only reason why it stands amidst all and place itself on the must visit restaurant in Galle.
Bon Appetit!
4. The Sun House Restaurant
If you want to indulge yourself with seafood in Galle, then spell the name 'Sun House Restaurant'! the restaurant drives every fellow tourist to its yummilicious seafood cuisines. The restaurant curate's new menu daily with influential Thailand, Australian, Mediterranean and Sri Lankan elements.
Tourist here enjoy their meal in an open area in a features tic veranda style, shaded by a mango tree. Moreover, every year the restaurant invites international chef to train the chefs and host classes. The restaurant and the unique aura placed its name on the best restaurant list in Galle.
With a unique approach the restaurants teach and serve their petty tourists with good foods respectively.
Well that's how you describe a scrumptious treat!
5. Amangalla
When you enter Amangalla, one feels they are being served in royalty! From the very beginning, the entrance fetches you to another era.  Whether it be its colonial hall or its tiled roofs, the place define the grandeur in its very way.
Guests here love to have meal either in the Great Hall (Zaal) or on the sunset terrace. Visitors who took special arrangement can fetch for candle light dinner around the swimming pool. Apart from its interior the place serves the best Sri Lankan dishes in Galle to die for.
Well, indulge your soul high to treat your taste buds with the exotic Sri Lankan cuisine in Galle!
6. Old Railway Cafe
sunshinestories.com
When food is one side, then shopping is on the other side when you describe tour. Isn't it? But what if these two is achieved under one roof? That will be a complete bewitching!
Located on the iconic Havelock place, the old building aka Old Railway Cafe is a top-notch cafe in Galle. It is so called as it was a railway storehouse earlier. It was when the owner has improvised the building into a clothing boutique and a cafe studio place.
One encounters the boutique first, selling range of garments and handicrafts all designed by local designers. Next you approach the cafe, relishing with western dishes, cakes and many more all of which are homemade.
In nutshell, it's the most appealing place to enjoy English breakfast in Galle over coffee and cozy ambiance!
7. Fort's Printer
If you want to take retreat from heat and want to treat your greed, Fort's Printer is the place!
This huge mansion is located in Galle's Fort and unlike it retells the story of its interior very well. At the very instance you will be amazed with its elegance, friendly atmosphere and intimate service. The mansion preoccupies 3 villas with 13 bedrooms. When talking about food, chefs here curates' seafood which satisfy guest preference. With its shady courtyard and Mediterranean inspired cuisine this place is a way more to imagine.
Registering its name in the best restaurant in Galle. The place also is a must visit if anyone want to have finest seafood dishes served in Galle.
8. Café Punto
edeltrips.com
A small 5-seat place with a style of 'open to outside' is the exclusiveness of the place. Perhaps, a never seen cafe where you can sniff the historic atmosphere in the middle of Galle Fort!
Certainly, the most relevant cafe to visit in Galle. With its ranges of Sri Lankan dishes as well as European, Cafe Punto is a way more commendable. Perhaps if you are hunting for good lunch in Galle Fort, this place is a must try.
9. Nihals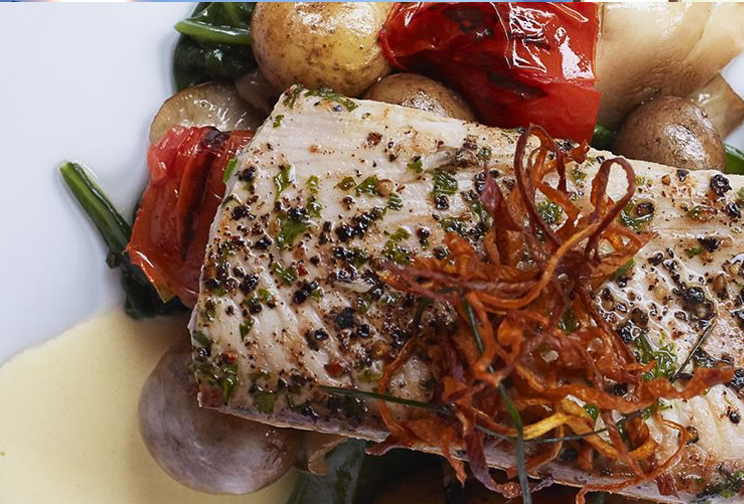 If you want relish a "perfect dinner spot at Galle", Nihal is the most designated place!
The place is coined after Chef Nihal Senanyake, offering array of global cuisines with twist of Sri Lankan touch. The main USP of the place is its dinner menu which fetch tourists afar. An arrangement of daily happy hour and with special signature dishes it will definitely attract you to grab more.
Thereby, Nihal is listed in the list of best restaurant in Galle.
10. A Minute by Tuk Tuk
If you want to start a healthy breakfast in Galle, Tuk Tuk is your place. Located at the 2nd floor of Dutch Hospital, the place relishes you with ambiance of ocean view. A perfect place to glimpse the vastness of ocean, soothing sounds of wave and relishing good food. The chic decor with a quirky menu is a go-to-place in Galle.
Moreover, with its wide selection of burger and sandwiches, cocktails and dessert it proves to be a well-spend place.
To summon, if you want relish the best of Galle, opt for these best restaurants in Galle to make the trip a memorable one!