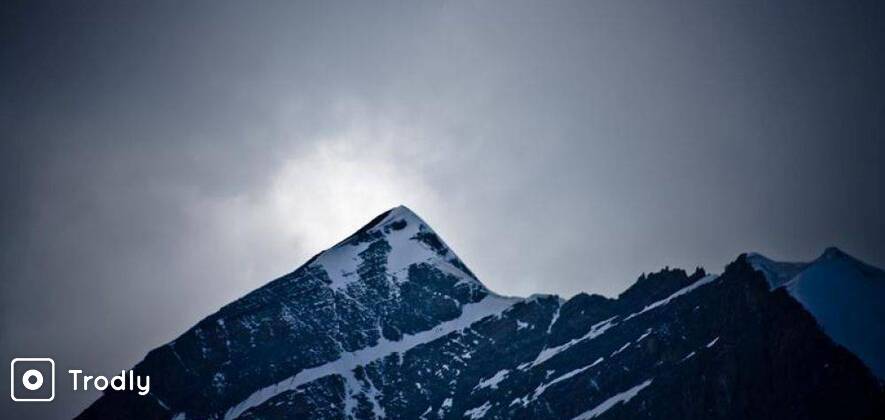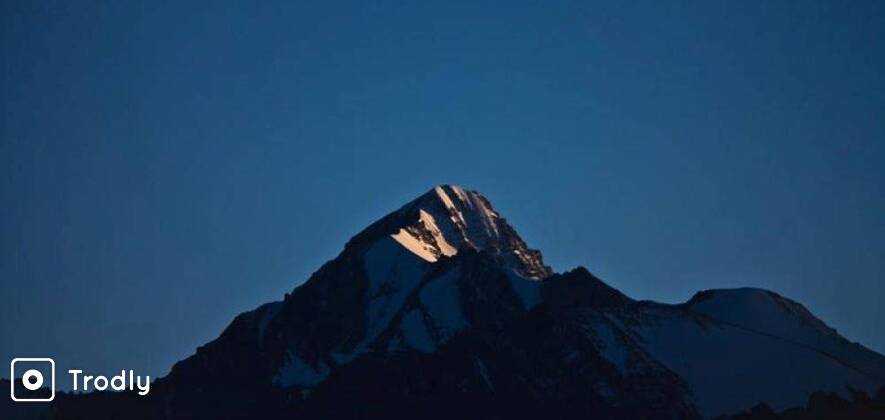 Group Size
5 to 15 people
Overview
Stok Kangri is a one of the major trekking peak is Ladakh the summit of which is as high as 6153 meters. The trek to the summit of Stok Kangri in Ladakh offers a great opportunity to scale a 6153 meter peak, requiring no mountaineering techniques at all.
Trekking in Ladakh is an lifetime experience in itself, but being able to see its beauty from as high as 6153 meters is crazy !! That's where the true Himalayan High is !! Summiting Stok Kangri is a pride which very few can boast of.
Though Stok Kangri is a trekking peak, its altitude and other dangers cannot be ignored. It requires good planning and the mountain rejects the over confident trekkers. For few who tried to underestimate the high altitude terrain of Stok Kangri has had paid their price, sometimes fatal. For those who go to the peak with respect, the mountain rewards.
Highlights:
The magical landscape of Ladakh: If you have not witnessed the magic which the mountains of Ladakh does to your heart, you have lost on so many things in life. Being an Indian if you have not visited Ladakh, GO !!! What Are You Doing ??
6153 meters, An Extremely High Altitude summit, but still a trek. No mountaineering techniques required: This is probably a very rare oppurtunity to trek to a summit of a mountain 6200 meters high with no skills of mountaineering techniques. All what is required is to be fit and have a good mental stamina.
View of K2, Second highest mountain of the World, in Karakoram: On a clear day, K2, Nun-Kun and Nanga Parvat reveals itself from the summit.
Markha Valley. The entire valley is visible from the top.
Mountain Goats, Marmots and other wild life. Seeing mountain goats is easier as they don't fear humans too much. Fair chances of seeing these on this trek. Marmots can also be heard and seen.
The culture and villages of Ladakh.
Brief Itinerary:
Day 1: Arrive in Leh.
Day 2: Acclimatization Day in Leh. Local sight seeing.
Day 3: Leh to Zinchan ( drive ) Trek to Rumbak.
Day 4: Rumbak to Mankorma, via Stok La.
Day 5: Monkormo to Stok Kangri Base Camp.
Day 6: Acclimatization, Training, Orientation Day
Day 7: Summit Day
Day 8: Base Camp to Stok Village to Leh.
Detailed Itinerary of Stok Kangri Summit Trek:
Day 1: From Delhi To Leh (Fly)
Fly to Leh from Delhhi and checkin to the guest house. Leh is dry and the air is very cold. Suddenly when you breathe in cold dry air, your body might not adjust to the new changed environment, that too in just 2 hours !!
Its advised that you drink adequate water before boarding your flight to Leh. Also, have a Vaseline handy to apply to your nostrils to moisten it, if you feel the air is too dry and cold to breathe easily. We meet in the evening over a light Snacks for a formal Team Introduction and share brief information on the trek preparation and planning.
Day 2: Rest / Acclimatization / Local Exploration Day
Today we spend our day visiting places around Leh and acclimatizing further. Leh is at very high altitude and this day is very important for us. We visit places like Leh Palace, Chemo Monastery, Shanti Stupa, etc.
Each of these places can be hiked to and its the best for us to do, if we are not feeling exhausted. If we do, we need to take some light walks in the town itself for some window shopping. Leh has some good shops selling trekking gears. So you can do some last moment purchases. Evening we will visit the monastery of Shanti Stupa to seek some peaceful aura around it.
Day 3: From Leh To Rumbak , Via - Zinchan (Drive/Trek, 4-5 Hours)
Today we start early morning to board our cab to Zinchan. Once we reach, our horses are loaded and we start our trek to Rumbak. An easy day.
Day 4: From Rumbak To Mankorma , Via - Stok La (Trek, 5-6 Hours)
We start our day early and begin our trek to Monkorma with stunning view of the Ladakh Himalayas. The magical mountainscape continuously motivates us and keeps us really engaged, making us forget that we are trekking.
We are to tackle the steep climb to the top of Stok La, which serves us the very important purpose of acclimatization. Since we climb upto 4900 meters and sleep low at 4400 meters, it help us better acclimatize to the altitude for higher ones to come.
On reaching, we ease out for the day. Its been a rewarding day till now. Post tea, we go for slight walk around the place to explore further. Do not forget to sight the summit of Stok Kangri from here.
Day 5: From Mankorma To Stok Kangri Base Camp (Trek, 3 Hours)
Today the walk is very less and we move out easily, though not very late. We leave for Stok Kangri Base Camp, and it take us around a hour and a half to reach the campsite. On reaching, we have hot lunch and relax a bit.
We will also go for a short acclimatization walk. We will climb up the direct hill in front of us on the route to Stok Kangri. Its a higher ground, and also offers great views. If you have zoom lens, do try to zoom in and catch a glimpse of the Stok Kangri Summit.
Once we come back form the acclimatization walk, we ease out, play games along with snacks, soup, dinner and hot drinks. These easy days are actually preparing us for the grand summit day.
Day 6: Rest / Acclimatization / Local Exploration Day (Rest, Acclimatize)
Today we train you on some technicalities of mountaineering to be used on the trek. Use of ice axe, some rope work, roping up, etc. During June July and even early august some year, the quantity of snow are too much and these basic orientation helps us in achieving success on the summit.
Day 7: From Stok Kangri Base Camp To Stok Kangri Base Camp, Via - Stok Kangri Summit (Trek, 10-11 Hours)
Today is THE DAY for us. We will attempt the Stok Kangri summit today. We start our long testing day to the summit post midnight around 1 AM in order to reach the summit on sunrise. All our previous day's efforts and acclimatization walks will be tested and brought into use today.
The route climbs up straight to the top of the hill we climbed previous day, and from there is descends to the glacier. A small crevasse can be negotiated with a slight jump, although in the dark, you should stay alert and together with the team. After you jump the crevasse and traverse the glacier, your next bid is to climb to the ridge leading to the summit of Stok Kangri. Never-ending switch backs follows and the high altitude makes it very slow.
If time and energy allows, we descend down to Monkorma to rest for the night.
Day 8: From Stok Kangri Base Camp To Leh, Via - Mankormo, Stok Village (Trek/Drive, 6-7 Hours)
Today we trek down and walk straight up to Stok Village. The trek is route is just so beautiful. We board our cab to get us back to Leh. We checkin into a hotel and settle for the day. In the evening, we meet for our last dinner together and celebrate our trek experience.
Inclusions
All meals and stay in spacious tents, on treks.
Accommodation in Leh, 3 nights, day 1,2 and 8.
Breakfast In Leh
Sub Zero Sleeping bags
Clean Fleece/Cotton Sleeping Bag liners
Carrymats, Crampons, Helmet and Gaiters
Harness and Ice Axe as required
High Altitude Medical Kit
Oxygen Cylinders
Transportation from Leh to Zinchen and Stok Village to Leh.
All permits like Forest Permission, Camping fee, etc.
Services of Guides, Helpers and Trek Leader
Porters, Mules or Horses to carry the logistics
Exclusions
Any other transport cost outside the included and stated above
Food purchased or demanded outside our fixed menu.
Anything purchased for self
Travel Insurance
Personal Luggage Offload Charge
Lunch, Snacks and Dinner in Leh
Anything which is not mentioned in the Inclusions list
You may chose to offload your bag or hire a helper for your photography gears at extra cost. Let us know beforehand, and we will arrange
Important Info
Peaks: Kun ( 7077m ), Nun ( 7135m ), Stok Kangri ( 6153m )
Passes: Stok La ( 4900m )
Rivers: Indus
Villages: Zinchen, Stok Village
Duration: 8 days/ 8 nights, Leh to Leh
Highest Altitude: 6153m
Grade: Challenging
Terrain: Meadows, rocky, snow field, glacier
Trail Type: Same Exit Entry Point
Starts At: Leh
Ends At: Leh
Region: India - Ladakh
Nearest Airport: Leh
Cancellation
No Refund of 25% of Booking Fee
Upto 60 days from the start date - 75% Refund
59th day to 31st day from start date - 40% refund
30 days and later - No Refund
Frequently Asked Questions

(FAQs)
Reporting/Start Point:
Leh
No Booking or Convenience Charge!
Other Exciting Activities