Satopanth Tal Trek
Uttarakhand
5 Nights/6 Days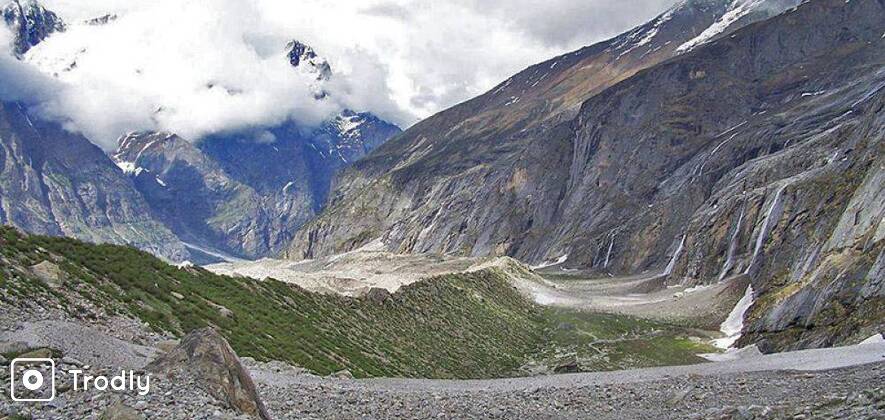 Overview
Get ready for a trekking experience that will take you through a journey of enchanting waterfalls, glaciers, green fields, snowy mountain peaks and a foray into the mythological events of the past believed to have been associated with this area! From tracing the source of the Alaknanda River to knocking on the gates of heaven at the Satopanth Tal, this journey is for both nature enthusiasts and those fascinated with history, religion and mythology! The Satopanth lake, in Uttarakhand, India, is set amidst yawning glaciers, with a splendor undreamt by men! At an altitude of 4,600 metres above sea-level, it is surrounded by high snow capped peaks! Wild animals and many different kinds of flowers & medicine plants are spread across this magnificent terrain. The beauty of this trek is that it starts at 3300m (the altitude of badrinath) and continues alongside the Alaknanda River until the Alkapuri glacier. The junction of the 2 glaciers is a breathtaking sight! The peaks of neelkanth, balakun and Satopanth give company throughout the trek. The camping locations on this trek are devoid of any trees, however there is a foray of beautiful alpine meadows.
Here are a few interesting things you should know about the Satopanth Tal lake! The name of lake comes from the Hindu Triad, Brahma,Vishnu & Mahesh. It is believed that on the holy days of Ekadashi, Brahma, Vishnu and Mahesh journey down during the mornings for a holy dip in the pristine waters of the lake! It is the only place where all these gods are present in "divine trinity". This makes the Satopanth Tal Lake a sacred place of worship for Hindu devotees. Bathing in this on the 11 days of the solar and lunar fortnights is considered most auspicious. Wouldn't that be quite the experience!? Another interesting fact is that certain species of birds are found here, which pick up the pollutants of the lake, thus keeping it clean. The local belief is that they are the Gandharvas in disguise, guarding the lake against evil! Lastly, legend says that the Pandavas followed this path to reach the gates of heaven after the Kurukshetra war, depicted in the "Mahabharata".
Brief Itinerary:
Day 1:- Rishikesh – Joshimath (245 kms/8-9 hrs)
After breakfast we will drive to Joshimath via Devprayag, Rudraprayag. One can see Devprayag (confluence of Alaknanda & Bhagirathi.) on the way. The Holy River Ganges starts from here. Arrival at Joshimath by evening. Joshimath is a religious centre, established by Adi Shankaracharya. He was one of the most revered Hindu philosophers and theologians who consolidated the doctrine of advaita vedānta. He called this place Jyotirmat, but today it is known as Joshimath. Among the sites of interest are the temples of Nav Durga and Narsingh. Apart from its obvious religious importance, Joshimath is known for its scenic beauty. We will then check into the hotel. Dinner and overnight stay at hotel.
Day 2:- Joshimath – Badrinath (45 kms/ 2 hrs)
In the morning drive from Joshimath to Badrinath, we will do some sightseeing.We will visit the Badrinath Temple, the abode of Lord Vishnu.It is situated at an altitude of 3130 m at the banks of Alaknanda. In the backdrop we can see the Neelkanth mountain peak, situated between the twin peaks of Nar and Narayan. The name is derived from wild berries called Badri. Adi Shankarcharya established the idol of Vishnu in the temple. Near the temple is a hot water sulphur spring, Tapt Kund.
Day 3:- Badrinath – Mana – (3 kms drive/20 mins) – Vasudhara (5 kms/2 hrs)
In the morning visit Badrinath temple and later after breakfast, a short drive to Mana village . Mana Village is 3 km from Badrinath, and is the last village of India on the Indo-Tibetan border. The Indo-Mongolian tribe set up this village and currently a population of 200 people live here. There is a small cave in Mana, named Vyas Guha and it is believed that Maharshi Vyas, writer of the "Mahabhata", wrote the epic in this very cave! One more cave is called Ganesh Guha and tourists can visit both caves regularly. From here we will trek to Vasudhara via Bheem Bridge with packed lunch. The Bheem Bridge, a short distance from Mana Village is made of a huge boulder, over the river Saraswathi is seen. The Bheem Bridge also has mythological significance! The story goes that Bheem, one of the Pandava brothers, put it there in order to help Draupadi cross the river. The view of this extraordinary bridge and the din of the flowing river make this place interesting. Vasudhara falls, 5 km after Bheem Bridge is a very high waterfall and is worth seeing! The most interesting aspect about this place is that all the water here becomes vapour and vanishes into the atmosphere. The view looks like the Ganges is descending from the sky! Dinner and overnight stay in camp.
Day 4:- Vasudhara – Laxmi Van – Satopanth (7 kms/4-5 hrs)
In the morning after breakfast we will trek to Laxmi Van (4 kms).
Enroute we will pass through a dense forest.
After lunch we will further trek to Satopanth Lake (3 kms).
The water in the lake is very calm. On the banks of this lake are innumerable lotus flowers.
To get here one has to come via Lakshmi Forest.
After exploring the lake, trek back to Laxmi van for dinner and overnight stay.
Day 5:- Laxmi Van – Vasudhara fall – Mana – Badrinath
In the morning trek back to Mana village and then 3 kms drive to Badrinath with a packed lunch. Upon arrival at Badrinath, check into hotel for dinner and overnight stay.
Day 6:- Badrinath – Rishikesh (265 kms/10 hrs)
Early in the morning drive to Rishikesh via Rudraprayag & Devprayag. Trip ends here.
Inclusions
Accommodation. (Guest house, Home stay, Camping)
Meals while on trek (Veg.) (Egg)
Trek equipments.
Permits
First aid medical kits and oxygen cylinder.
Qualified & experienced Professional trek Leader, Guide and Support staff
Transport from Rishikesh / Haridwar & return.
Exclusions
Any camera fees
All food & beverages costs apart from the ones mentioned above
Any personal expenditure (Toiletries, medicines, etc.)
Cost incidental to any change in the itinerary/ stay on account of flight cancellation due to bad weather, ill health, roadblocks and/or any factors beyond control.
Anything not specifically mentioned under the head "Cost Includes".
Important Info
List of Essentials:
Shirts / T-shirts
Trousers / Track Pants
Windproof jacket
Fleece / Full-sleeve Woolen sweater
Thermal inner wear (upper & lower)
Woolen cap
Mittens (Woolen gloves)
Scarf
Woolen socks (extra pairs to be carried)
Comfortable Trekking/Hiking shoes (shoes with a thick sole are recommended)
Raincoat / Poncho
Towel
Water bottle
Cap / Hat
Walking stick / Trekking pole
Sunscreen Lotion
Lip Balm
Torch / Flashlight (with extra batteries)
Medicines, if requiring any specific medication
Camera
Sunglasses
Personal toiletries
Cancellation
In the event of cancellation of trek/adventure activity services due to any avoidable / unavoidable reasons we must be notified of the same in writing. Cancellation charges will be effective from the date we receive advice in writing, and cancellation charges would be as follows: -
Up to 25 Days: 90% of Trek/adventure program cost will be refunded.
Between 10-25 Days: 60% of Trek/adventure program cost will be refund.
Less than 10 Days: No refund
Reporting/Start Point:
Rishikesh
No Booking or Convenience Charge!
Other Exciting Activities