Everest Gokyo Valley Trek
13 Nights/14 Days

151 people interested today
13 Nights/14 Days
Private Activity
English (Other language guide available for extra cost)
Response time: 2 - 24 hours
Trip Overview
Gokyo Valley Trekking is the amazing journey that includes all features of High Mountain trekking in Nepal. It offers the panoramic mountain views, walking through the alpine valley, deep gorges, Sherpa villages, glorious lakes and spending the nights at the comfortable teahouses in the world popular Khumbu region.
Highlights:
Trek to the Khumbu Himalayas, Gokyo Valley, Lakes & Glacier.
World's biggest ice glacier - Nagazompa
Fully supported guesthouse trekking.
Three star accommodation in Kathmandu.
Inclusive cost of required permits, guides & porter.
Domestic flight and transportation included
UNESCO HERITAGE tour of Kathmandu valley
Scenic mountain flight of Kathmandu-Lukla-Kathmandu.
Exploration of Namchebazar, Gokyo Valley & Gokyo Lakes
Majestic view of Himalayas from Gokyo- Ri (5483M) :- Mt. Everest, Nuptse, Lotshe, Amadablam, Pumori, Khumbila, Thamserku.
Remarkable views of Gokyo Lake & Valley .
Exploration of Sherpa culture and community at local Sherpa villages.
Crossing the remarkable Gokyo-Ri(5483M) pass
Brief Itinerary:
Day 01: Arrive at Tribhuvan International airport (1345meters).
Day 02: Pre-trip Meeting and Sightseeing around Kathmandu valley (Optional).
Day 03: Fly to Tenzing and Hillary Airport in Lukla (2840 meters) and trek to Phakding (2610 meters) about 3 hours.
Day 04: Trek to Namche Bazaar (3440 meters) about 5 hours. Overnight at Guesthouse.
Day 05: Rest for acclimatization in Namche Bazaar.
Day 06: Trek to Dole (4200 meters) about 6 hours.
Day 07: Trek to Machhermo (4410 meters) about 6 hours.
Day 08: Trek to Gokyo (4790 meters) about 5 hours. Overnight at Guesthouse.
Day 09: Rest day at Gokyo and excursion around Gokyo Valley & Lake.
Day 10: Climb to Gokyo – Ri (5483 meters) and trek back to Machhermo (4410meters). About 7 hours.
Day 11: Trek to Namche Bazzar (3440 meters). About 5 hours.
Day 12: Trek to Lukla (2840 meters) About 6 hours.
Day 13: Fly back to Kathmandu from Lukla.
Day 14: Transfer to the international airport for your onward destination.
Detailed Itinerary:
Day 01: Arrival in kathmandu Kathmandu
Arrive Tribhuban international airport (1350m) where you can meet our representative and transfer to the hotel. After short refresh we will brief about next day program. Overnight at Hotel.
Day 02: In Kathmandu (1350m)
After breakfast at we will leave for sightseeing around the UNESCO world heritage site Swyambhunath,Buddhanath and Pashupatinath.The area has an amazing range of fascinating highlights, whatever your interest. Excellent bookshops, extensive markets, and novelty and handicraft shops contrast with fantastic centres of cultural and spiritual significance - Kathmandu has more World Heritage sites than any other city in the world. Overnight at Hotel. (Breakfast included)
Day 03: Fly to Lukla (2800m) and trek to Phakding (2610m)
We transfer to the airport for the 45 minute flight to the STOL airstrip at Lukla. This was the airstrip built by Sir Edmund Hillary and his friends to service the Everest Region when he began his work of building schools and hospitals for the Sherpa people. It is a memorable flight, with marvellous views of the Eastern Himalaya. At Lukla we are immediately impressed by the scale of the huge peaks that surround the village, but this is only a foretaste of what is to come. Our crew assembles and we head downhill towards the Dudh Kosi, a raging river that flows from the highest peaks, named "Dudh" (milk) Kosi (river) because of its colour. After around four hour trek we reach Phakding village.
Day 04: Trek To Namche Bazaar (3440m)
Today we cross and re-cross the thundering glacial river with suspension bridge. Sections of today's walk are through pine forest and cleared areas reveal terraced fields and a variety of crops. We pass small groups of donkeys, yaks and dzopko carrying trading goods and trek - gear along the trail. A dzopko is a yak-cow crossbreed while a yak is a full-blood long haired male, more commonly found at higher altitudes. We pass through a variety of small hamlets as we slowly gain altitude. Spectacular mountain peaks unfold above us and seem to hover above the tree-line as they rise above the deep river valley. Shortly after leaving camp we cross the Kusum Khola, a tributary stream to the Dudh Kosi, and the peak of Kusum Kangru (6369 m) can be seen to the East, at the head of the valley. Further along the trail, across the valley to the North-West, Nupla (5885 m) and Kongde Ri (6093 m) rise above the forested ridges. At a turn of the trail, Thamserku (6808 m) rises majestically, seemingly from the river floor. We will see our first Mani walls today. After the lunch at Jorsalle we follow the river course to the confluence of the Dudh Kosi and the Bhote Kosi and cross a spectacular high bridge before commencing our ascent to the village of Namche Bazaar, the Sherpa "capital" of Nepal. It is a tough climb as the trail passes through forest of pine to a vantage point that provides our first view of Mt Everest. The trail continues to climb and meander to Namche and the sight of this prosperous village spread within a horse-shoe shaped valley opposite the beautiful peak of Kongde Ri is worth every step. Overnight stay at gueathouse.
Day 05: Rest Day in Namche Bazaar (3440m)
After breakfast we will move for Sagarmartha National Park Headquarters just 30 minute above our hotel offers a very interesting display of photographs, memorabilia and information of the park, and the hill above is a wonderful vantage point for the spectacular view up the Imja Khola Valley towards Everest. The change from the narrow lowland valleys to the broad glacial ones is immediately obvious. The steep-sided glacial valley before us gradually winds towards the base of Everest, broken only by the moraines left by retreating glaciers. Its more gradual rate of climb is a blessing for those trekking higher. Towering to over 4000 metres above the sea level, spectacular peaks seem to engulf us. Around us are Taweche (6542 m), Thamserku (6808 m), Kantega (6685 m), Ama Dablam (6856 m), Nuptse (7896 m) and Lhotse (8511 m). The greatest of all, Mt Everest (8848 m), rises at the head of the valley. The Sherpa Cultural Centre next to our hotel has an interesting collection of mountaineering items and photographs. Those who are fit and acclimatising well may wish to take the optional walk to the Everest View Hotel (2-3hrs) where spectacular views of Everest and Ama Dablam may be seen. For those feeling well acclimatised there is also the option of a day walk to the pretty village of Khumjung. Khumjung is where Sir Edmund Hillary built his "Schoolhouse in the Clouds" and the famed Khunde hospital is close by. We will also be able to visit the monastery at Khumjung where we may have the opportunity to see the "scalp of a yeti". Overnight at Guesthouse.
Day 06: Trek to Dole (4000m)
Heading North-East we follow the main trail to Thyangboche as it contours around the hills, before we branch off on a short climb on the flanks of the sacred peak of Khumblia (5761 m). We traverse for some time across yak pastures as the trail gradually ascends to Mon La. Below us is the confluence of the Dudh Kosi and Imja Khola and across the valley Thyangboche monastery is framed by Ama Dablam and Kantega. An initial short climb gets us onto the trail for the steady climb towards Gokyo. Since leaving the main trail we have seen progressively fewer trekkers and locals and the relative isolation of the trail is a pleasure. Sections of red birch, fir and dwarf rhododendron forest are interspersed with areas of yak pasture as we gradually gain altitude. We pass pleasant waterfalls and sit to gaze at the glaciers that flow from Taweche and Cholatse on the opposite side of the valley. Behind us, spectacular ridges lead to the peak of Khumblia and the numerous unnamed peaks that reach almost 6,000 metres. Camp will be at Dole, in a field beside a pleasant stream. In the distance Kantega and Thamserku rise above the foothills. Overnight at Guesthouse.
Day 07: Trek Machhermo (4410m)
Continuing a steady but constant climb, we reach the "village" of Machhermo for lunch. Like the few small villages in this valley, Machhermo has only a few buildings and these are empty much of the year. Villagers in Khumjung and Khunde generally own land here high up the valley, where they graze yaks in the summer months. This is a valuable acclimatisation day as we prepare for the higher altitudes and our ascent of Gokyo Ri (5483m). This afternoon can be spent relaxing or you may wish to stretch your legs and take a walk up the ridge behind Luza for a view of the Gokyo Valley. Just a short walk from camps is the Machhermo Porter Shelter and Rescue Post which is well worth a visit, here you can learn more about altitude and the work of IPPG (International Porter Protection Group). Overnight at guesthouse.
Day 08: Trek to Gokyo valley (4760m)
Following the valley high above the river, we commence the ascent to Gokyo village. There are excellent views of Cholatse at the village of Panga and we stop to enjoy them. We are now in high alpine country and as we approach the Ngozumpa Glacier we trek onto the moraine and rock that extends down from it. We enjoy excellent views of Kantega to the south and Cho Oyu to the north. Each mountain has it's individual character and presence and you can understand why the Nepalese give them such religious significance. Once we have ascended the snout of the glacier the path levels. We pass the first of the lakes, Longpongo, before reaching the second, Taoche Lake, a larger body of water and a place where ducks are often seen swimming in the freezing waters. As we walk up the valley our path parallels the Ngozumpa Glacier and separating us from the glacier is the massive lateral moraine. Overnight at Guesthouse.
Day 09: Hike To Gokyo Ri(5482m)
An early start is best for the opportunities that the early morning views offer. The steady and unrelenting ascent of Gokyo Ri will take two to three hours, depending on your level of fitness and acclimatisation. It is not a race and times of up to six hours are cherished by those who thought they would not make it at all. If you find the climb hard work don't hesitate to ask one of the guides to carry your day pack. You will be elated when you reach the summit with it's spectacular view. Probably the most comprehensive view of 8,000 metre peaks in Nepal, many people consider it to be Nepal's best. Surrounding us are Cho Oyu (8153 m), (a mountain that defeated a British Expedition of climbers, including Hillary, in their lead-up to their successful assault of Everest), Gyangchung Kang (7922m), Lhotse (8501m), Makalu (8475 m), Cholatse (6440m), Taweche (6542m), Kantega (6685m), Thamserku (6808m), Lobuche (6145m) and Mt Everest (8848m). Hundreds of other unnamed peaks fill the scene, whilst below us the Ngozumpa Glacier, the largest in Nepal, stretches through the valley. The striking colour of the lakes below completes the picture. The only way to get a better view of the entire Everest region would be to climb a 7,000 metre peak! Although further from Everest than Kala Pattar, the traditional viewing point, here we see more of the mountain and enjoy a more relaxed environment. Overnight at Guesthouse.
Day 10: Trek back to Dole (4000m)
Trek back to Dole. The views during the return have a different point. The trail meanders around the constantly changing obstacles and affords great views of Cho Oyu and Cholatse. We cross our camp at Machhermo and reach our camp at Dole. We see the slopes of Cholatse and Taweche. Overnight stay at Guesthouse.
Day 11:Trek back to namche bazaar (3440m)
It's about six hour desend to the namche bazaar where you can feel very comfortable after few days.Its almost same view what you seen before so you can check in day 06.Overnight at Guesthouse.
Day 12: Trek back to Lukla (2804m)
Around seven hour trek down to the Lukla.Lukla is biggest city of this trek where you can enjoy with irish pub and other bar. Lukla is the last day of our trek so we will have dinner together in lukla.If you need more information you can see day 3 and day 4.
Day 13: Fly back to Kathmandu
This morning we fly to Kathmandu, a thrilling flight over forests, fields and villages, with the Himalaya in the background. On arrival, we transfer to the hotel. The rest of the day is at leisure, a good time for last minute shopping or sightseeing. Evening we will provide you farewell dinner in Nepali cultural restaurants. Overnight at Hotel.
Day 14: Depature
A representative from Massif Holidays will take you to the airport, approximately 3 hours before your scheduled flight. On your way home you'll have plenty of time to plan your next adventure in the wonderful country of Nepal. Check out time from the hotel is at 12 noon. If you are departing later, you can arrange luggage storage at the hotel. We will provide the transport anytime for your departure. (Breakfast included)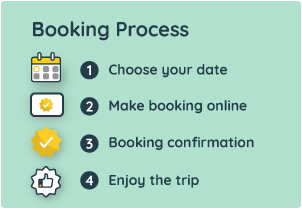 Basic Details
Kathmandu
Kathmandu
Moderate
O355A933
Inclusions
Standard twin sharing accommodation in a tourist category hotel in Kathmandu with breakfast. (3 nights)
Guided city tour in Kathmandu by private tourist vehicle.
Teahouse accommodation during the trek.
Local licensed English speaking guide.
The required number of local staff and porters to carry your luggage during the trek (We assign one porter for every two guests).
Food, accommodation, salary, insurance, equipment and medicine for all trekking staff.
Everest Conservation Park permits and TIMS permit for trekking.
Down Jacket and sleeping bag by the company (which need to be returned after the trek).
Kathmandu- Lukla- Kathmandu flight ticket
Farewell dinner in typical Nepali Restaurant with cultural dance show on second last day.
All our government taxes, vat and service charges
Exclusions
Travel insurance which covers emergency Rescue and Evacuation
All your meal during tour and trekking.
International Airfare
Alcoholic, hot, cold drinks, any bottle drink.
Sightseeing/Monument entrance fees in Kathmandu.
Personal trekking / tour equipments.
Tips for tour, trekking staff and driver (Tipping is expected).
Any others expenses which are not mentioned on "cost Includes" section.
x
Why book with TRODLY
Best Price Guarantee
Verified customer reviews that help you make the right decision.
Qualified operators. All partner operators selected after rigorous system of checks.
Free Cancellation on Most Trips
Only Best Trips - Our team of travel experts bring uniquely local, safe, and exciting experiences to the community.
100% Secured Payments
Important Information
Rates valid for Indian Nationals only
During the trip; weather, local politics, transport or a multitude of other factors, that are beyond our control can result in a change of itinerary. It is, however, very unlikely that the itinerary would be substantially altered; if alterations are necessary the leader will decide what is the best alternative, taking into consideration the best interests of the whole group. Where a change does occur, we do everything we can to minimize its effect, but we cannot be responsible for the results of changes or delays.
Cancellation Policy
Full refund if cancelled before* 30 days
75% refund if cancelled before 15 days
50% refund if cancelled before 7 days
No refund after that
Meet-up Information/Reporting Point
Tribhuwan International Airport, Kathmandu, Nepal
Similar Exciting Activities
Get trip inspirations, offers and more.