Hampta Pass Trek To Chandertal with Kunzum La, Ki and Kibber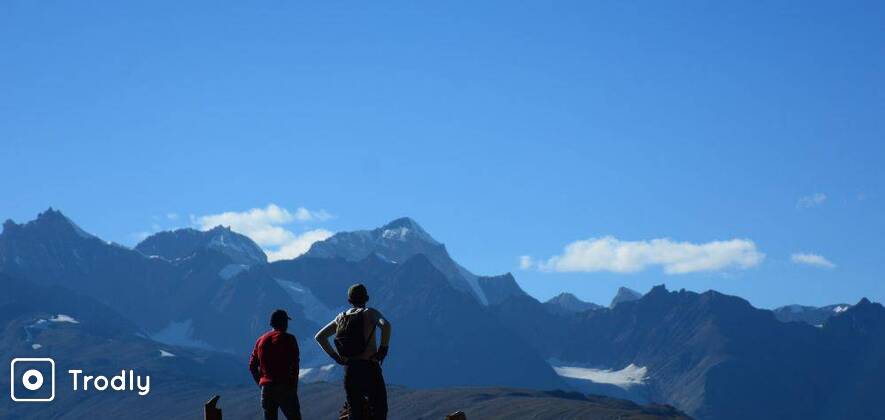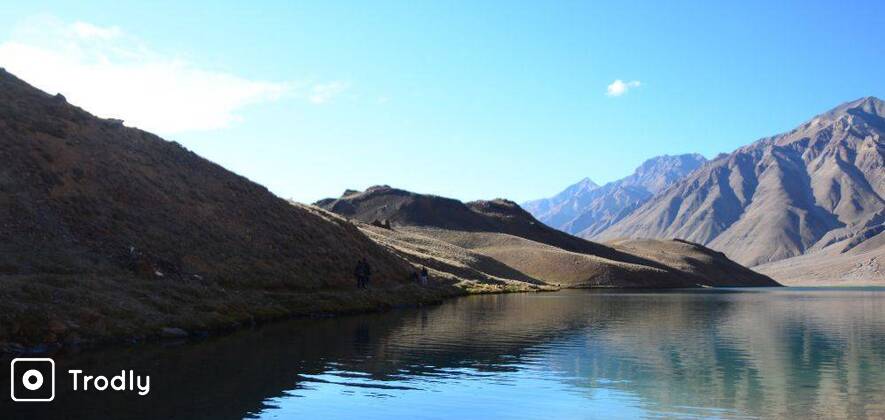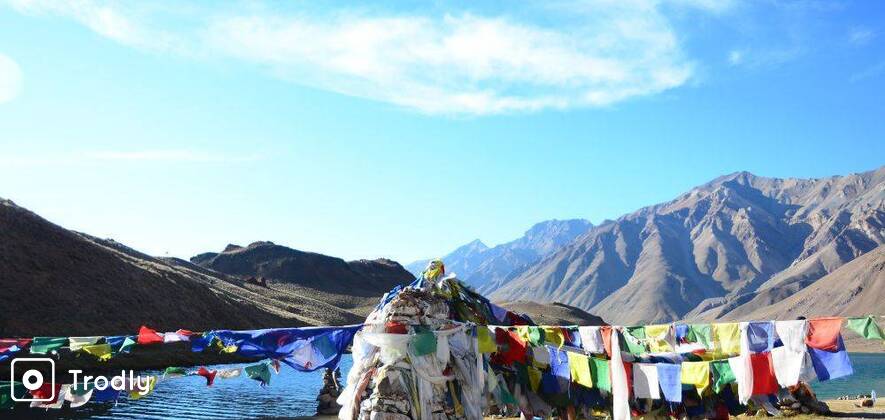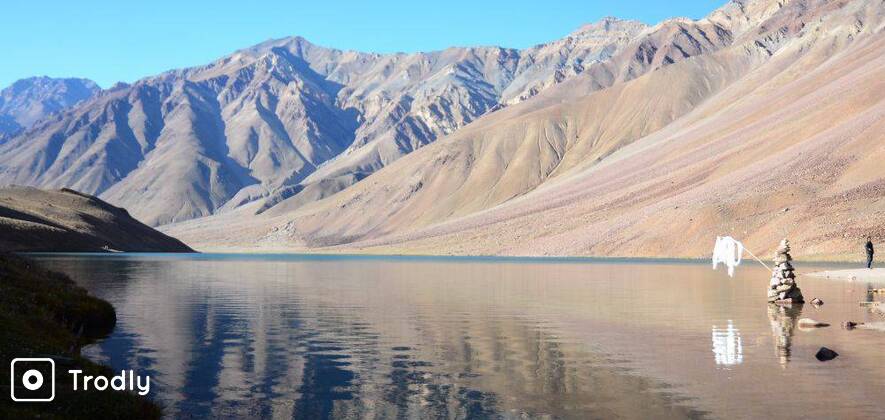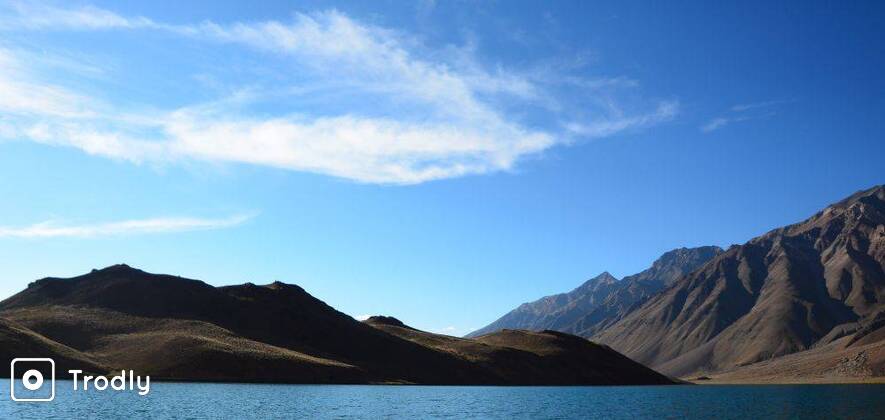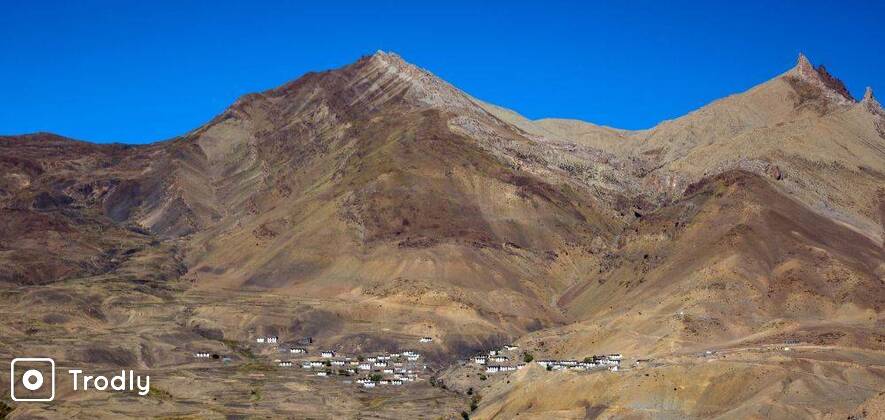 Start Point
Haripur, Manali
Finish Point
Haripur, Manali
Overview
When I ventured into the adrenaline dripping world of trekking and climbing, a seasoned trekker told me that the trek to chandertal over Hampta Pass was a good point of initiation. And, of course he was right.
That being said now let me share some gyaan shyaan about this fabulous trek.
Kullu and Lahaul are two adjoining districts and are separated by the formidable Rohtang La. Rohtang La is snow bound from October to June. Both the valleys are geographically quite different. The Kullu/Manali valleys are green with thick forest cover and heavy rains. However, Lahaul is in a rain-shadow area with partial Trans-Himalayan barrenness. The trail to chandertal over Hampta Pass combines both these areas gives a wonderful walk with two completely different terrains to enjoy.
Highlights:
Hampta Pass
Kunzum La
chandertal
Ki Monastery
Kibber
Rohtang La
2 Nights Stay at Base Camp, Manali
Camping at exotic locations
Star gazing
Trek Duration: 4 Night/5 Days
Maximum Altitude: 4590 m
Route: Manali – Chikka – Hampta Pass – Chattru – chandertal – Kunzum La – Ki – Kibber – Losar – Rohtang Pass – Manali.
Brief Itinerary:
Day 00 (Optional): Arrive in Manali - Stay at Base Camp
Reporting Time: 10:00 AM
The guests are requested to get dropped at the Patlikuhl bus stand (16 km short of Manali). A representative from the team will receive you at the bus drop point and drive you to Basecamp at Haripur, Manali. Unwind and refresh yourself at the Basecamp nestled in a beautiful apple orchard. Explore surroundings, Naggar Castle, Roerich art Gallery etc. Please ensure you are properly geared up for the trek. Any last minute shopping can be done from Manali. Guests will then meet the team and staff in order to get comfortable with them and to clarify any doubts. The guides and team leads will share the Dos and Don'ts of the trek. Enjoy some delicious dinner around a bonfire with the group and retire early.
Day 01: Base Camp to Prini to Chikka (Altitude 3530 m - 90 min drive and then 4 hour walk)
Reporting Time: 09 AM at Prini, 2 km fro Manali market
In the morning, after breakfast we will drive 15 km to Prini, situated on the left bank of River Beas on the Naggar – Manali road. Those who have not stayed with us, join us here in Prini by 09:00 AM The trek start from Sethan (3000 mtrs), its a 12 km trek and will take about 3 hrs. The trail passes through thick forests to the Lahauli village of Hampta. The trail alternates between thick forests and open grounds for 12 km to Chikka. The trek crosses many glacial streams over improvised wooden bridges. Beautiful forested peaks are visible from Chikka after 3 or 4 hrs of scrambling. From here, we will get an excellent view of Deo Tibba and Indrasan group of peaks. When we arrive at Chikka, we will camp here for the night.
Day 02: Chikka - Juara - Bhalu Ka Ghera (Altitutde 3627 m)
Today we will gradually ascend the valley, the trail continues to the alpine meadows which are full of interesting flora, crossing stream at Juara, glacial features of the surrounding mountains can be seen along the way. Bhalu ka Ghera, also known as the Bear's Circle, is the place where brown bears are said to hibernate during winters and during the right time of the year, several species of wild flowers can be seen. After a trek of about 6 km, we will reach a lovely meadow called Ratni Thach (3800 mts). It is a beautiful camping spot and we will camp here for the night.
Day 03: Bhalu Ka Ghera - Hampta Pass (Altitude 4298 m) - Shiya Goru (Altitude 3597 m)
Start the day early by climbing up for about 2 km up to the Hampta pass (4270 mts) while walking on the snowfields. It is now time to get shutter happy with your camera. The final ridge is a little steep to climb and when snow-bound you will you will have to cut steps in the ice up the pass. The view from here is jaw dropping. The peaks of in Lahaul, particularly in the Kulti valley and of the Chandrabhaga group, are seen as a huge cluster, with peak of Mulkila IV raising its head above them. From top of the pass you can see the majestic Mt. Deo Tibba (6001 m), Indrasan (6221 m) and the mighty Greater Himalayan and Pir Panjal Range. A short descent leads to the campsite at Shiya Goru. We will camp in a beautiful meadow by the stream.
Day 04: Shiya Goru to Chattru (Altitide 3360 m) - Batal (Altitude 3960 m) - Chandertal (Altitude 4300 m)
Today's trek begins with crossing a small stream and a walk following the valley stream down to the mighty River Chandra. The descent to River Chandra is a bit steep and follows a long ridge. Once in the valley you will rejoin the road which crosses the bridge across the river to Chatru. However gentle the river appears, do not try to ford the River Chandra – always use a bridge. This deceptive river has swept away many trekkers trying to take a shortcut. Arriving by the side of Manali-Spiti road at Chattru, we will stop here for tea and lunch break before driving to chandertal via Chhota Dhara (3517 m) and Batal.
There are lovely views of the "Chhota Shigri" (small glacier) and "Bara Shigri" (big glacier) along with several high peaks of Lahaul. From Batal onwards it can be very windy as the valley opens up here. The road climbs steeply around many bends to Kunzum La in the east. This road leads to Spiti valley. There is a new footpath leading from Kunzum La that descends to chandertal, however the more direct approach is the road from Batal, going into the Chandra valley in the north. We wil be driving along the left bank river Chandra after crossing a bridge near Batal. The trail continues for about 14 km to the scenic campsite at the bank of chandertal, from here you can see the panoramic view of the Chandra-Bhaga Range.
The emerald colored expanse is breathtaking. Spend the evening at leisure by the mesmerizing chandertal Lake. Situated in a bowl and in a beautiful crescent shape, it offers a view of many peaks. The massive Samundri Tapu glacier joins the valley from the west. It is linked with some major peaks and the Mulkila group at its head.
Day 05: Chandertal - Kunzum La - Ki, Kibber (highest village in the world - Rohtang - Manali - Base Camp
Early morning, by 4 am we start our road trip to heart of Spiti. Time to get trigger happy with your cameras, as we drive to Kibber over Kunzum La (4590 m) and visit Ki Monastery and Kibber, the highest village in the world before driving back to Manali via Chatru, Rohtang Pass (3980 m) and Marhi. We can trek back or drive to Batal and have lunch there or at Chatru. For the adventurous few who want to spike the adventure even more, there is the option of boarding the much sought after "Himachal Tourism" bus back to Manali.
We will then head on to Manali. The trek ends here and those leaving the same day will be dropped in Manali to continue your journey back to Delhi.
For rest of the trekkers, a celebratory dinner and bbq over bonfire awaits us at Base Camp
Day 06 (Optional): Base Camp - Departure
Relax at Base Camp or go paragliding, rafting or angling (some nice spots near our base) or just chill by the River - Get dropped to Patlikuhal bus station to catch your bus of onward journey.
Inclusions
2 nights stay at 'dA Base' (in comfortable rooms), located in an orchard in Haripur, Manali.
Pick up and drop from Patlikuhl bus stand, Manali.
Porterage for your personal stuff, one bag, max 10 kg strictly
Stay in comfortable 2-3 men tents during the trek.
Sanitised sleeping bags
All meals during camping (nutritious freshly cooked vegetarian).
Equipement for start gazing
Services of experienced MOI/ BMC qualified lead guide and qualified assistant guide certified in first aid.
Kitchen equipment, cook and helpers.
All the Camping arrangements
Wildlife/ environmental permits and other permits & levies.
All transportation as per itinerary in local cars / jeeps/ Public Transport
Basic first-aid medication.
Exclusions
Cost of any form of insurance (Personal/Baggage/Medical)
Cost of rescue, evacuation, hospitalization, etc.
Meals at "Dhaba" or during the road travel
Meals after breakfast on day 5)
Any expenses of purely personal nature like laundry, phone/Fax calls, tips to drivers, guides, any beverages.
Any expenses that arise due to change in itinerary and increase in no. of days because of natural forces like landslides, weather, roadblocks, flight cancellations, sickness etc.
Cost of any optional activity we offer, like paragliding, angling, rafting etc.
Porterage for personal stuff above the allowed one 10 kg bag @INR. 450/day per bag (max. 10 kg)
Important Info
The trek can be customized and facilitated for 1 participant also and for fixed departures we take max.5-6 participants in one group
incase the group size is four or less, the difference in cost will be born by clients, there is also option of public transport
In case you are travelling by your own car, we suggest you arrive directly at our basecamp located in Haripur (address will be shared after booking), 14-16 km from Manali on the Naggar road, the day before the start of the trek.
Porters can be arranged for alpine trekkers @ INR 350 per day per 10 kg bag. Prior notice will be appreciated.
Participants are expected to have a reasonably good fitness level.
In the trek, if the group size is not met, the trek will not be cancelled; however we will travel in public transport.
A vehicle will be arranged for the guests to travel to Chandrataal from Chatru. In case we are travelling by public transport on our way back, we will trek back from Chandertaal to the road head at Batal to board the bus. As there is only one bus in a day, the seats are issued on a first cum first served basis and no prior bookings are taken.
Trekking programs in the Himalaya not necessarily would always run exactly as scheduled. Allow for unplanned long days or early camps due to weather disruptions or similar causes.
All participants are recommended to have a travel insurance that covers trekking and wilderness travel.
Wear shoes and clothes you are comfortable in and do not forget waterproof jackets and warm clothing.
Do not litter the environment. Polythene and plastics are non-biodegradable and unhealthy for the environment and must not be littered or burned and should be carried back
Soak up the atmosphere – close your eyes and take in the sights and sounds as you explore and observe.
Cancellation
We understand life can be unpredictable at times, and that plans can change, that's why we are pretty flexible about cancellations. For last minute emergencies we offer future trip credits on a case by case basis. Please talk to us before you cancel any trip with us.
From confirmation up to 30 days prior to departure - 10% of the total amount payable would be charged
Between 15 - 29 days – 50% would be refunded
Less than 15 days prior to departure 100%.
Please Note: Failure to show up at reporting point (till 3 hours of the reporting time) - Would be considered as a NO SHOW case and Operator has right to cancel the trip with No Refund.
Note:
Any additional expenses which might occur due to delays, weather disruptions, medical evacuation etc. would need to be borne by the participants as per actual. All overstay due to delay beyond our control would be charged on pro-rata based as per tour cost for planned days.
In case of unforeseen weather conditions or like, certain activities may be cancelled and in such cases we will provide an alternate feasible activity. However no refund will be provided for the same.
Operator reserves the right to change the itinerary due to unforeseen circumstances such as due to political reason, natural calamities, serious sickness, and special reasons.
In case the road from Chatru to Chandertaal is not open we will camp at Chatru.
No refund will be payable to any client who voluntarily leaves a trip in the middle.
In case any participant falls sick or is injured during the program, the medical, travel, porter and any other expenses has to be borne by the concerned individual. However, primary medical facilities will be made available wherever possible.
Once the tour starts and is cancelled due to any reason beyond our control, the Company reserves the right for the payment of refunds to the client and will be on Company's discretion.
Please note that cancellation charges also apply to reductions in group size, not only for cancellations of entire bookings.
In case the strength falls below the stipulated group strength or the Client can travel as individual travelers, then a different rate i.e. not group rate would be applicable. If the company cancels the trip due to group size, 100% refund would be given.
Frequently Asked Questions

(FAQs)
Reporting/Start Point:
Pick-up from Patlikuhal Bus Stop (16km before Manali)
No Booking or Convenience Charge!
Other Exciting Activities