Everest Base Camp Trek
Nepal
13 Nights/14 Days

244 people interested today
13 Nights/14 Days
Group Activity
Response time: 2 - 24 hours
Trip Overview
The Everest Base Camp Trek offers stunning views of Mount Everest. On this trek, you do not just view the classic mountain from a distance, but you trek to its base camp from where, lots of mountaineers from different parts of the World, take their steps on the mountain, to reach its summit. Walking the trails through Tengboche, Dingboche, Lobuche and Gorakshep and then to Everest Base Camp, this is for sure a trek you must do to gift yourself an experience for a lifetime !!
The Everest Base Camp Trek is focused around Mt. Everest, but its not just about it. Its about so many other unique experiences as well !!
While this trek is about Mt. Everest, the other elegant peaks are great to see as well !! On this trek, also witness the grand panoramas of the snow cladded and mesmerizing peaks in the Nepal Himalayas. Apart from the views of Mt. Everest, Makalu, Cho Oyu, Lhotse, Nuptse, Ama Dablam, Thamserku, Kusum Kangri, Kang Tega, Tobuche, Lobuche, Cholatse, Pumori, Nirekha, Machermo, Khungde, Kongde, and lots of other peaks add to a beautiful experience.
Highlights:
Mt. Everest 8850m - World's highest peak. This trek goes to the base camp of the World's highest mountain, where mountaineers spends over a month to climb it.
Array of High peaks of the Nepal Himalayas - Right from the time you take your flight to Lukla till the end, you get to see numerous High peaks of the Nepal Himalayas, namely Nupla, Kongde, Khumde, Thamserku, Kusum Kangru, Kangtega, Ama Dablam, Mt. Everest, Lhotse, Nuptse, Makalu, Cho Oyu, Machermo, Cholatse, Tabuche, etc.
The thrilling flight to Lukla, World's most dangerous airport. Apart from the flying experience, the view from flight is breath taking. All high peaks of the Nepal Himalayas are visible.
Trek through the rhododendron forest in the Himalayas. During the springs, the trail till Namche is colourful due to the blooming of the Rhododendrons.
Birding and animal sight, if lucky.
High Altitude and super panorama of peaks from Kala Patthar 5554m
Sunrise and sunset on the mountain peaks.
Witness Shepra hospitality and Neplese culture on the trek
Brief Itinerary:
Day 1: Arrival in Kathmandu and trip preparation
Day 2: Fly From Kathmandu - Lukla. Trek to Phakding
Day 3: Trek From Phakding - Namche Bazaar
Day 4: Acclimatization Day - Namche Bazaar
Day 5: Trek From Namche Bazzar to Tengboche
Day 6: Trek From Tengboche to Dingboche
Day 7: Trek From Dingboche - Duglha
Day 8: Trek From Duglha - Lobuche
Day 9: Trek From Lobuche - Gorak Shep. Summit Kalapatthar for Sunset
Day 10: Trek From Gorak Shep - Everest Base Camp - Gorak Shep - Periche
Day 11: Trek From Pheriche to Namche Bazzar, via Pangboche, Tyangoboche
Day 12: Trek From Namche Bazaar-Lukla
Day 13: Fly From Lukla - Kathmandu
Day 14: One Acclimatization/ Buffer Day to Be Used Either in Dingboche/ Dughla/ Gorakshep
Day 15: Buffer Day 1

Detailed Itinerary:
Day 1: Arrival in Kathmandu and Preparation
Upon arrival in Kathmandu you will be guided to your Hotel.Your trek leader welcomes you there and guides you to your room. You may spend the rest of the day shopping remaining stuffs for the trek in Thamel, or take a local tour. We will meet over a welcome dinner where we get introduced to the team and share few important details for the trek. A feast on typical Nepalese cuisines after that and then we wish Good Night to each other.
Our cabs will be ready to drive us to airport tomorrow. So be prepared and on time to board our flight to Lukla.
Day 2: Fly From Kathmandu - Lukla. Trek to Phakding
Early morning, we leave for Kathmandu Domestic Airport. We board the 9 - 11 seater flight to Lukla. The view outside from the window is breathtaking. All the white tall peaks of Nepal can be seen guarded by the greener ones. Remember to take your seat to your left while going, and to your right while returning.
After some 40 minutes of flight we land which is not so smooth as we are used to. After we exit the airport, we have some hot breakfast before starting the much awaited trek to the Everest Base Camp.
Today's trek is a short walk of around 7.5 kms, and takes about 3 - 4 hours with lunch time included. The trail is beautiful with lots of small Buddhist Chortens, Mane walls, prayer flags, terrace farmings of the Himalayas with tall mountains encircling you all round, and off-course - the suspension bridges crossing over the Dudh Kosi river multiple times! On reaching Phakding, we check in to our rooms and ease out for the day.
Day 3: Trek From Phakding - Namche Bazaar
Today we criss cross the Dudh Koshi river several times through suspension bridges and climb up to Namche Bazaar at 3440m. The trail is very exciting and happening as you trek along with trekkers from different nations. We cross the settlements of Benkar, Chumoa, Monjo, to arrive at the entrance of Sagarmatha National Park. Our permits to enter will be made here. This place has a small museum inside worth checking while we get the permits done. We walk for some 30 more minutes more to stop for lunch at Jorsalle. From here, the trail zig-zags up to "The First Everest View Point". If the weather is clear, we can see Everest behind the Lhotse and Nuptse ridge through the leaves and branches of the trees. From here, Namche checkpost is an hour distance where we make our entries again. After getting it done, we head to our Lodge for tonight. Its some 30 minutes walk from here.
On reaching, we check-in to our rooms and ease out for the day. We have reached a very good height today. Namche is a very important place on this route. Its an ancient trade hub which has flourished very well due to tourism. The place is surrounded grand views of Himalayan peaks. Don't miss the sunset behind Thamserku.
Day 4: Acclimatization Day - Namche Bazaar
Today we start the day to climb up to Everest View Hotel for acclimatization. From here, we can view the beautiful peak of Ama Dablam, Thamserku, The little hump of Kangtega, Everest, Nuptse, a little of Lhotse, Cholatse and Tobuche. This is at 3880m and gives us a very good altitude to acclimatize for the days to come. We head back to Namche for lunch. Post lunch, we may take a local tour of Namche. There is a monastery, few bakeries and shops.
Day 5: Trek From Namche Bazzar to Tengboche
After yesterday's acclimatization walk and a much needed break in Namche Bazaar, today we start our trek towards Tengboche. All throughout the trek, we will get superb view of Mt. Everest, Nuptse, Lhotse, Ama Dablam and close up view of Thamserku if we are not unlucky.
The trek route for the day is comfortable, following a gradual trail with few ups and downs, all surrounded by the magnificence and charm of the great Himalayas of Nepal.
The trek route from Namche Bazaar till Kyangjuma is almost flat and a slight descend. From Sanasa, the trek is simple through the pine forests uptill Phunki Thenga - a small commercial settlement with a few tea-houses and an army post. It is our preferred place to have lunch. Post lunch, we need to trek further, and slightly steeper to Tengboche. It houses the a biggest Buddhist Monastery in the region and is famous for pre-Everest climbing rituals. We visit it in the evening free time. A nice plate of hot Dal/Bhaat/ Tarkari is a pleasant way to end our beautiful day.
Day 6: Trek From Tengboche to Dingboche
Wake up to a peaceful morning in Tengboche. Today we head further up and closer to the Everest Base Camp. We trek till Dingboche.
The trail to the village of Pangboche village is straight up after crossing the river. The views are just amazing with Ama Dablam dominating them all. It takes about a little more than 2 hours to reach Pangboche, where we can break for a light snack. This vilage once had become famous for the 'hand' which was believed to be that of a Yeti's. DNA studies proved it to be of a human being's.
From Pangboche, a walk of another hour brings us to Tsuo Og where the trail splits again. One goes to Periche and another to the Imza Valley and Chukung. We take the right trail and continue on a steep trek to reach Dingboche.

Day 7: Trek From Dingboche - Duglha
Today, we trek to Duglha up along the Khumbu Khola. The views are just perfect surrounding us. We cross by Dusa and Phulung Karpo to reach Dughla. The Chola Lake is located above the campsite of Phulung Karpo. Excellent views of Mt. Pumori greet us today.
With views of Cholatse, Nuptse and Thamserku, Dughla is a nice place to be in and ideal for slowing our pace to the Everest Base Camp as we are trekking above 4500 meters. This will reduce our exertion and maximize our chances of better acclimatization.
Day 8: Trek From Duglha - Lobuche
From Duglha, we trek up through the steep terminal moraine of the Khumbu Glacier. We ascend to reach Chupki Lhara from where great views of the surrounding panorama is sought. He we also find the memorials of the legendary mountaineer Babu Chiri Sherpa, who summited Mt. Everest 10 times and that of Scott Fischer.
Soon, we are welcomed by the multiple peaks of Lingtren, the pyramid of Pumori and Khumbutse and other peaks of Mahalangur Himal. The altitude is high here and the terrain is rough too. Lobuche is just little ahead and soon we reach there.
Day 9: Trek From Lobuche - Gorak Shep. Summit Kalapatthar for Sunset
The trail to Gorak Shep follows the moraine of the Khumbu Glacier. A short trek to Thangma Riju will give us a chance to witness the grand vista of the mighty peaks. After enjoying the view, we then climb up steeply along the Changri Glacier. There we get the first sight of Kala Patthar beneath Pumori. We begin well in time post lunch to get the sensational perspectives of the surrounding view from Kala Patthar.
After a strenuous climb for some hours, we reach Kala Patthar. We scramble few rough patches and reach the summit set apart by cairns and prayer flags.
Day 10: Trek From Gorak Shep - Everest Base Camp - Gorak Shep - Periche
After a good and quick breakfast, we take the trail leading to the Everest Base Camp through the Gorak Shep Lake. Proceeding straight ahead, we pass by our Army's (India Army) Mountaineers' Memorial.
After tackling the glacial moraine of Khumbu glacier, we reach the Everest Base Camp. It from here where mountaineers attempt the summit of the glorious mountain. Mt. Everest is hidden from here and Nuptse, Khumbuste and Pumori are the mountains we can see from the base camp.
Day 11: Trek From Pheriche to Namche Bazzar, via Pangboche, Tyangoboche
Today, we trek down till Namche Bazaar, and since we are well acclimatized, we can't believe how fast we can do so.
From Periche, we trek down to Pangboche and then retrace our route to Tengboche, Phunki Tenga, Sanasa, Kyangjuma and then finaly to Namche Bazaar. We have lunch as per our choice enroute Namche Bazaar.
Day 12: From Namche Bazaar To Lukla, Via - Jorsalle, Phakding
Today we bring an end to our trekking days. We retrace our steps back to Lukla.
Day 13: Rest / Acclimatization / Local Exploration Day
This Rest Day can be utilized anywhere between Dingboche and Periche or used to shorten the trek distances.
Day 14: From Lukla To Kathmandu
Today, we fly back to Kathmandu and checkin into our Hotel. We spend the day in our own way and according to our own priorities. Show may shop for family and relatives, while some may rest, while some may go for river rafting, bunjee jumping or temple visits. You may also get a tattoo done. We meet for a farewell dinner at night.
Peaks At Glance: Ama Dablam ( 6856m ), Cholatse ( 6440m ), Kala Pattar ( 5545m ), Kangtega ( 6782m ), Khumbutse ( 6636m ), Kongde ( 6187m ), Kusum Kangguru ( 6367m ), Lhotse ( 8516m ), Lhotse middle ( 8430m ), Lhotse Shar ( 8400m ), Lingtren ( 6714m ), Lobuche East ( 6119m ), Makalu ( 8462m ), Mount Everest ( 8850m ), Nupla ( 5885m ), Nuptse ( 7861m ), Pumori ( 7165m ), Thamserku ( 6608m ), Tobuche ( 6495m )
National Parks: Sagarmatha (Everest) National Park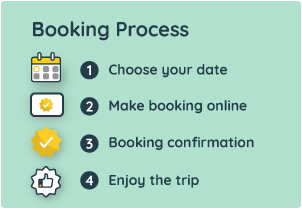 Basic Details
Kathmandu
Kathmandu
Moderate
O271A360
Inclusions
14 Days, 13 Nights - Kathmandu to Kathmandu
2 way Kathmandu - Lukla flight
2 way transport - Kathmandu Airport and Hotel, for Lukla flight
2 nights in hotel, Kathmandu
Tea house accommodation on trek
All sumptuous meals on trek
TIMS and National Park Permits
Well equipped support team
High altitude medical kit
Equipped trek leader
Expert local guide
Insurance For Local Staffs
Safety Gears Wherever Required
Exclusions
Personal Travel Insurance
Personal Purchases
Food Purchased Outside Our Menu
Personal Gears
Personal expenses in Kathmandu
Lunch and Dinner in Kathmandu
Extra Cost Due To Lukla Flight Inconsistency
x
Why book with TRODLY
Best Price Guarantee
Verified customer reviews that help you make the right decision.
Qualified operators. All partner operators selected after rigorous system of checks.
Free Cancellation on Most Trips
Only Best Trips - Our team of travel experts bring uniquely local, safe, and exciting experiences to the community.
100% Secured Payments
Important Information
Duration: 14 days/ 13 nights, Kathmandu to Kathmandu
Highest Altitude: 5554m
Grade: Strenuous
Best Time: Apr - May, Sep - Nov
Terrain: Rhododendron forest, forest, rocky, meadows, icy
Activity Type: Trek
Trail Type: Same Exit Entry Point
Starts At: Kathmandu
Ends At: Kathmandu
Region: Nepal - Everest
Country: Nepal
Nearest Airport: Tribhuwan International Airport at Kathmandu, Nepal
Nearest Rail Head: New Jalpaiguri, West Bengal
Meet-up Information/Reporting Point
Kathmandu Airport, Nepal
Similar Exciting Activities
Get trip inspirations, offers and more.