Chadar Frozen River Trek - All Inclusive
Zanskar/Ladakh
8 Nights/9 Days
3 reviews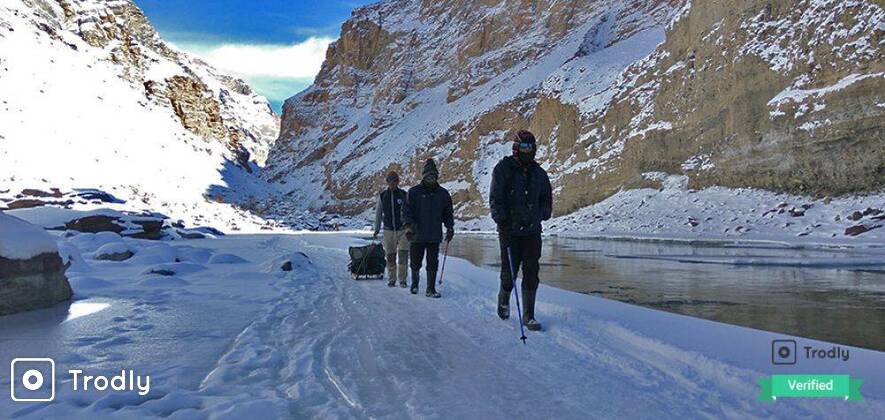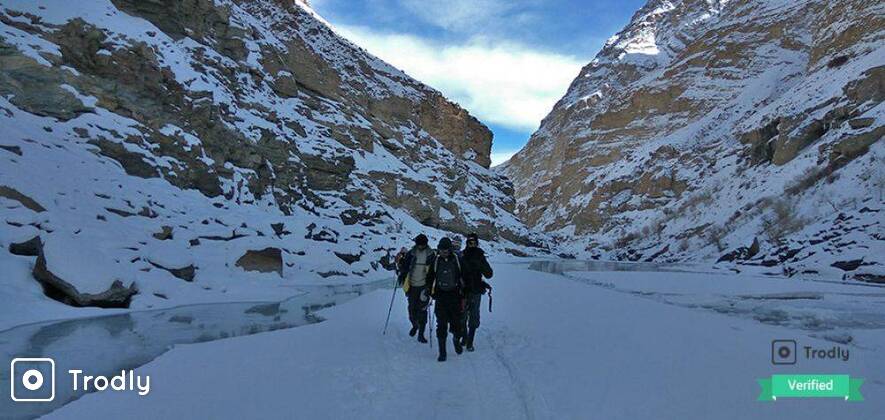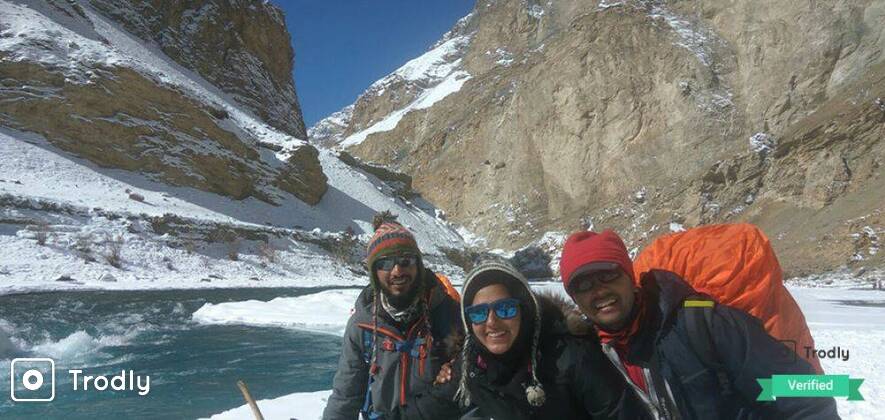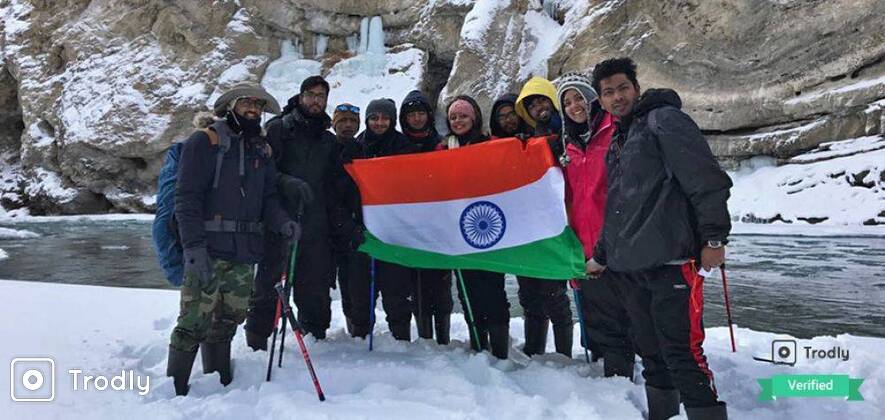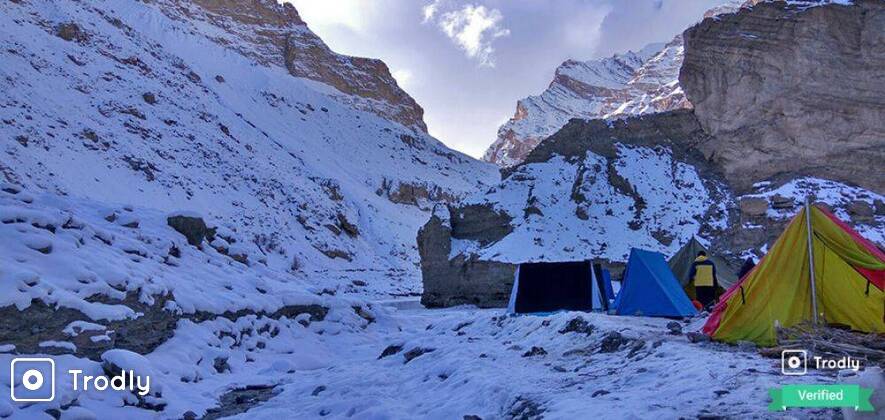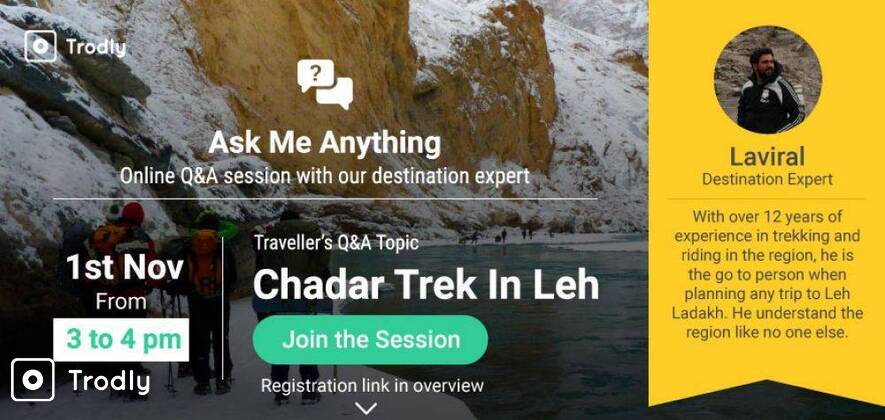 Group Size
10 to 20 people
Grade
Moderate to Challenging
Overview
"Chadar" refers to the frozen lake with sheets of ice that forms over the Zanskar River. And it transforms itself from fast and rapidly flowing river into a white coat of ice during winter. The river becomes frozen glass ice ranging from a bluish tinge to golden yellow when the sun touches the frozen river bed during the sunset. It will be a milky whitish frozen lake after dusk under the moonlight. This trek journey is unique and magical to describe the experience.
The villages are connected to the Zanskar Valley which is deep in the mountains along with the chilling and frozen lake. This is the only route for transportation and trades for centuries to the villages in the valley. Ice is more stable in February for the proper roads.
Highlights
No Hidden Charges (Environmental Fee, ALTOA, LAHDC fees included)

Airport Pick-up/Drop Included

-35 C Double lace Siachen Grade Sleeping Bags

25Kg Oxygen Cylinders

Hot Water in Leh

Double sharing tents on request during trek

5x7 feet 2 Person, 8x7 feet 3 person spacious Tents fit for Chadar Treks

1:1 Ratio of support staff with trekkers

Gum Boots Included

EMI

Option Available!
Available Batch Dates:
January: 13th, 14th, 15th, 16th, 19th, 20th, 21st, 24st, 25th, 26th, 27th and 28th
February: 1st, 2nd, 3rd, 4th, 10th & 11th
Detail Itinerary:
Day 1: Fly to Leh (11,400 ft.) | Stay in Guest House
Woollen cap and Gloves are must and should be handy. It is impossible to reach Ladakh by road during winter, miles and miles of heavily covered snow can be spotted while flying to Ladakh. Flying over miles and miles of heavily snowed mountains will tell you just why it's impossible to reach Ladakh by road in the winters. One of the highest airports in the world is Leh airport, once you arrive at the airport, you will step into the fresh air and the drastic drop in the temperature. The town will be covered with snow and so people will be busy shedding it off their properties. The thick snow covered town will slowly come to life. A walk to Leh market, you will find only a few shops and restaurants open for business, last minute shopping can be done here. The chill will give you an idea of how the winter trek will serve you.
Day 2: Drive to Tilad Do via Chilling - (11,400 ft - 10,390 ft.) | 65 km Drive - Camp Stay
A beautiful sunrise at Shanti Stupa from where you will get the panoramic view of the entire town of Leh. You can start the morning by witnessing the sunrise from the Shanti Stupa. The peak of Stok Kangri will beckon you to climb it.
The journey begins with a long drive to Chilling. The ride takes you through the village of Nimu through the Indus, where the Zanskar converges into Indus. After stopping at this point for pictures, the drive resumes and continues downhill to the river valley. There are few breathtaking moments as the vehicle climbs the steep hairpin bends over the snow-covered road. The snow covered road goes past Chilling to Tilad Do. Driving through these epic mountains gives the feeling of insignificance of one's being does not escape anyone.
Camp-site is right across the Frozen Lake, Zanskar. You must cross the lake. This will be your first step on the sheets of ice at Chadar. It takes time to get used to walking on the ice. The team will start up with the tents on the bank of Zanskar River. You will be handed with nice and warm sleeping bags and also one can get warm only through a little bit of exercise and so climbing up a nearby mountain to see the Frozen Lake. As the sun sets, the temperature will go down and gets cold. The night will be enjoyed by staying at the river bank with warm sleeping bags and tents.
Day 3: Tilad Do to Shingra Koma - (10,390 ft - 10,550 ft.) | 10 km Trek - Camp Stay
The trek leaders will give a briefing on the day as it will be a long walking session for 10 km on the Chadar. The weather gets to decide about this day's trek. It can be a cold and hard surface to walk on. Important thing is to follow the leader, as they will know where to step and not to. Ice can be thick and thin sometimes, the locals have the sixth sense to step on the Chadar properly. As time goes by you will get used to the walking on the Chadar. Lunch at Gyalpo, a porter-cum-cooks prepares the hot and soupy noodles. The fluid intake must be balanced to circulate the blood in your system during the trek.
Camp-site of that day is at Gyalpo, the place is surrounded by peaks and beautiful views of rocks around. There will be an early dinner served and call it a night
Day 4: Shingra Koma to Tibb Cave – (10,550 ft - 10,760 ft) | Trek 15 km - Camp Stay
The early morning routine: Bed tea at 7, Breakfast at 8, and start out journey at 8:30. As today is the longest walk of the entire trek for 15 km have sufficient breakfast. But not to worry about the cold, walking will keep you incredibly warm.
A walk through the deep of the Zanskar as it will be a stunning view. The mountains around the Chadar mostly keep the sunlight away. There are either big or small caves on these mountains that are visible. In the journey, you will get to see the waterfalls from a higher view than the others. The rocks below these waterfalls are covered with moss, and this is the only greenery you'll see on this trek.
There is a big cave at Tibb, a warm welcome from the village people. Here is where the butter tea is famously known after the chill trek.
Day 5: Tibb cave to Naerak camp – (10,760 ft - 11,150 ft) | Trek 12.5 km - Camp Stay
Today you will be walking near the river you crossed. The porters give you a twig of Juniper tree tied with a piece of prayer flag as a badge of good-luck and good health. A few steps away you will see the frozen waterfalls – a huge instance of suspended animation several feet tall and equally wide. You can find different colours in frozen falls as there will be sunlight touching it down. Right next to the waterfall is a bridge across the river which is a part of the summer-time road from Zanskar to Leh.
The Naerak village lies several feet above the river, a vigorous hour-long trek can take you to the village if you want to see the life of a Zanskari. The camp is set up close to the river.

Day 6: Naerak to Tibb Cave - (11,150 ft - 10,760 ft.) | 12.5 km Trek - Camp Stay
Today you will be heading back to the Tibb cave. And if you thought that it was just a matter of retracing your steps back to Chilling, you can think again. The Zanskar River reacts to the slightest change of temperature, and constantly keeps repackaging itself. The Chadar would have assumed a completely new form, and will it will almost be impossible to say whether you have been here before.
On the trek, you will meet a lot of locals wearing their traditional woollen Gonchas – some of them are the monks who hike from the Lingshed Monastery to Leh, some of them are the young students accompanied by their parents returning to their schools in Leh after their winter vacation.
Day 7: Tibb Cave to Shingra Koma - (10,760 ft - 10,550 ft.) | 15 km Trek - Camp Stay
From Tibb, you go up to Gyalpo today. The walls of mountains from the sides of the river almost look like castle walls. If you're lucky enough, you will see a snow leopard. Also, you can be sure that you can be watched by one of them all the time.
Day 8: Shingra Koma to Tilad Do to Leh - (10,550 ft - 11400 ft.) | 10 km Trek, 65 km Drive - Stay in Guest House
The last day on the Chadar is today and the last chance to immerse in the pristine beauty of the frozen river. Once you reach Tilad Do, it is time to say farewell to the Zanskar. Tonight you will get to sleep in the warm guest-house again.

Day 9: Return from Leh (Return Flight)
As the memorable journey gets over, you will depart from Leh today. The Chadar trek will be a cherished memory for life.
Inclusions
Accommodation during trek in tents (twin/triple sharing) and Leh Guest house (triple/quad sharing) on Day 1 and Day 8

All meals during the trek (Menu includes Rice pulao, potato, dal, local dishes, hot soups, eggs, breads, poha, noodles sweet, maggi, pastas, tea, coffee, papad, milk, high energy bars, dry fruits, juices etc.)

Hot water and heating in Leh guest house

Trek equipments: ( -35C Double Lace Sleeping Bags, Gum Boots, Mattress, Tents, etc.)

All Permits & Environmental fees

Local Association Fees - ALTOA, LAHDC.
Environmental Fees

First aid medical kits and oxygen cylinder.

Experienced trek guide and Support staff to help trekkers.

Transport from Leh to trek starting point of trek and return

Airport pick up & drop

Leh Accommodation: Heating & Hot water
Exclusions
Any kind of personal expenses

Insurance

Meals in Leh guest house

Porter to carry personal luggage

Anything not specifically mentioned under 'Inclusions'
Important Info
Additional Night at Hotel in Leh @ Rs.1800 Per Person/Night on Twin Sharing Basis without meals.
Sight seeing/Taxi can be arranged from our travel desk at the Base Camp Leh on actual as per the rate of Leh Transport & Taxi Union.

Oxygen cylinders and first aid will be there during the trek. Rescue and medical team will be available on call in case of any exigencies.

Tented accommodation will be provided on twin/triple sharing basis while on the trek.

Single Room and Tent avaiable at Rs. 8500 /- extra - Choose while booking
Medication
Oxygen Cylinders (25 KG) and first aid will be there during the trek. Rescue and medical team will be available on call in case of any exigencies.
Cancellation
Cancellation Terms:
50% refund if cancelled between 15th December 2017 to 1st January 2018
No refund if cancelled after 1st January 2018
Frequently Asked Questions

(FAQs)
Reporting/Start Point:
Pick-up from Leh Airport
No Booking or Convenience Charge!
₹ 25500

(10% OFF)


₹ 22990

Per Person
Other Exciting Activities