Goa – popularly known as the 'Pearl of The Orient' and 'Tourist Paradise', is known for its amazing beaches and nightlife. One can definitely say that a trip to India is incomplete without a few nights spent in the coolest place of the country. There are a few things you need to tick off your list when in Goa- clubbing, lunch at the shacks, mornings in the churches and of course at least one casino night. For those who haven't been in a casino, visit to a Casino in Goa is must-do thing otherwise you're missing out on something real fun buddy!
Goa is so much more than just its beaches, flea markets and heritage sites. There is something else about Goa that attracts a huge number of people – its is one of the only three states in India which has legalised gambling. Goa is one of the very few states where gambling is legal in India. Casinos in Goa can be found onshore as well as on the boats anchored in the Mandovi River. The offshore casinos indulge in live tables whereas the onshore ones can have only electronic games, by law. Games like black-jack, roulette, mini-flush, 3-card Poker, baccarat along with machine poker and slot machines spoil the guests with choices.
So now that you've decided to step into the gambling hub and want to try your hand at the game, here is a list of 3 in Goa with 3 completely different vibes and try your luck out.

1) Deltin Royale Casino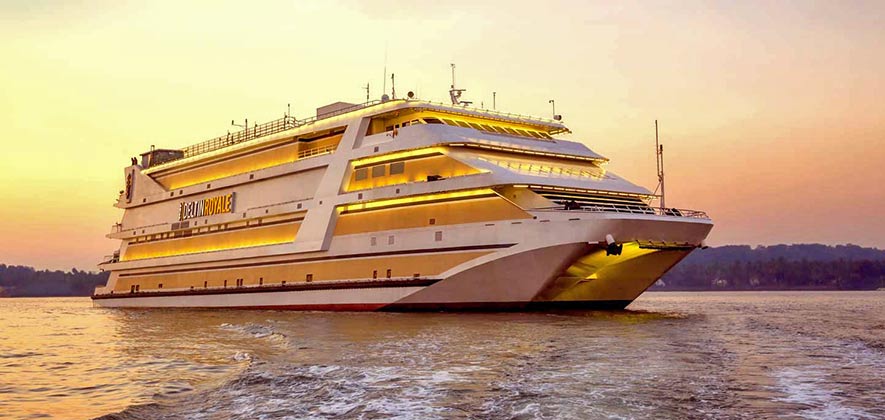 Also known as Casino Royale, it is a casino located on a floating ship and is undoubtedly a must visit casino when you find yourself in Goa. The only casinos in the country with a dedicated poker room, there is a lot to like here due to its wide range of gaming options, ambience, entertainment, location and grub range. Coming here is truly an experience.

Location: Panaji
Timings: Open 24/7
Entry Charges: Starts at INR 2000 for Monday to Thursday and INR 3000 for Friday to Sunday
2) Casino Pride 2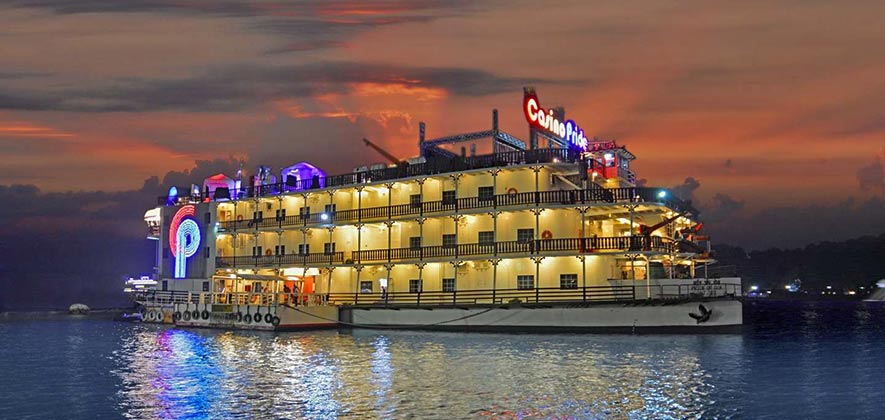 If you are the kind of person visiting with family and need a place which can cater the needs of everybody, while you can still have some fun, then this is the right place for you. Located at river Mandovi, it is an offshore casino with gold embellishments which will give you a royal feel. This is a good option for families.
Location: Panaji
Timings: Open 24/7
Entry Charges: Starts at INR 1500 for Monday to Thursday and INR 2000 for Friday to Sunday
3) Casino Palms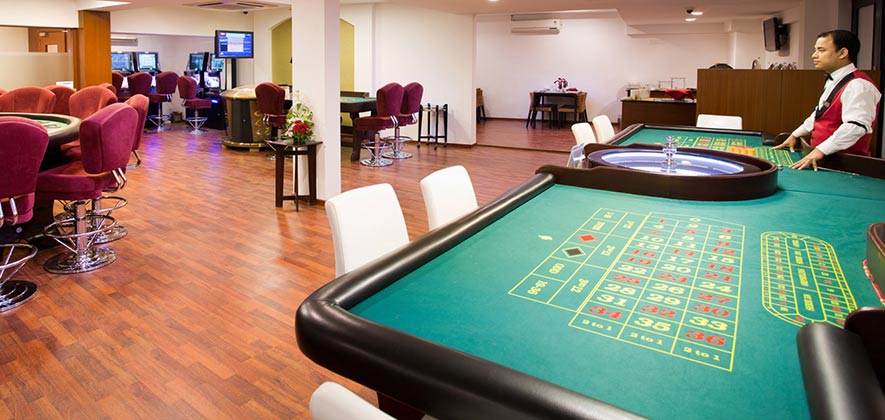 Waves, sun & lots of fun is what Casino Palms is all about. No matter if you are a corporate guest, a family on vacation, foodie or a gamer; Casino Palms is the place to be when you visit Goa.
With various games and many more offerings, this group is one among the best in hospitality industry of Goa. At Casino Palms, the top priority is comfort and convenience of the guests. The facilities and amenities provided, not just satisfy the necessities of the visitors , but also indulge them in luxury.
The entry fee at Casino Palms is Rs. 1000/- per head which includes a lunch/dinner and 2 drinks/snacks. The lunch/dinner is buffet which varies at three levels like: the regular one at Rs. 1000; the special one at Rs.2000; and the executive one at Rs.3000.
There are various types of games provided, namely-mini flush, slot machine, teen patti and etc.
Casino Palms has numerous options , amenities, setting and pricing, which try to anticipate and fulfill the desires of the visitors over there. The place is beautiful along with warm hospitality and excellent service which makes sure that the time spent at Casino Palms will be the most memorable moments.
4) Casino Paradise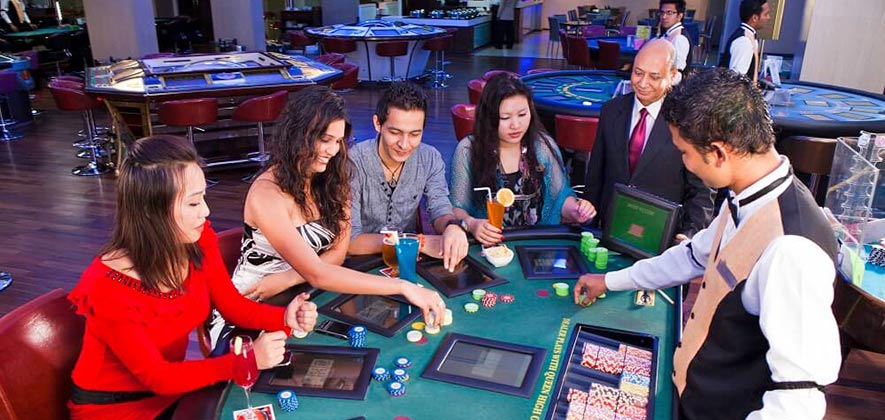 Sprawling over an area of 5000 square feet, Casino Paradise is gamers' paradise. Its interior looks elegant and has been designed keeping in view uninterrupted gaming for the guests. This is one of Goa's largest and most luxurious casinos, located onshore Neo Majestic Hotel. So bag all the chips and try your luck here.
Smart Casual is the dress code inside the casino. Avoid slipper, flip-flops, sleeveless shirts/t-shirts and shorts. Casino Paradise has, for the first time in India, introduced Sega (Horse racing) and The Robotic Arm Baccarat Station. With a large variety of games played at this casino, this is without a doubt a gaming paradise. People's favorite Roulette, Blackjack, Baccarat, Mini Flush, Tai Sai, Wheel Of Fortune and Slot Machines make it a complete Casino Experience. And if the gaming needs to pause for a bite, you can satiate your taste buds at our multi-cuisine restaurant. While your spouse can Enjoy & pamper in our Spa – Siddhi, or revitalize and refresh yourself in our Sauna and Steam.
It is located at Neo Majestic Hotel, Porvorim, Bardez, Near Azad Bhavan, Panjim, Goa- 403521, India. Entry fee for the casino is INR 700; this excludes food, snacks and drinks. Casino Paradise is open 24 hours.
5) Grand7 Casino
We all know that casinos are a part of Goa. The Grand 7 Casino is the best casino in Goa which presents an exciting and unforgettable casino experience. Situated in Goa, the Grand 7 Casino is located at the O Resort and Spa which is located on Candolim Beach Goa with scenic views of the magnificent Arabian Sea. Grand 7 casino is one of the well known casinos in Goa . It offers its guests a complete Goa casino package for a relaxing holiday with the thrill of casino games. With a complete variety of games like black jack, roulette, teen patti, banker player, andhar bahar, mini flush, along with slot machines, guests are left with various choices.
Grand 7 Casino offers many more experiences for its guests to indulge in, like the multi-cuisine restaurant which specializes in mouth-watering dishes from all over the world. The guests can also pamper themselves at the spa or relax and rejuvenate by the pool side. The casino also take pride in pleasuring the guests with some spectacular performances by both local and international performers. This is a place for those who have an everlasting spirit for gaming with a touch of class.
The casino provides with various different packages like: The regular package which includes Monday to Thursday Rs.1500/- per person with 500 OTP chips and Friday to Sunday Rs.1500/- per person with no OTP 2. The special package which includes Monday to Sunday Rs. 2000/- per person with 1000 OTP chips 3. Special packages include Monday to Sunday Rs.3500/- per Couple with 2500 OTP chips. The casino provides various games to its visitors. Some of them are: Teen Patti, Evona, Mini Flash, Banker Player, etc.
The casino is open for their visitors 24X7.
6) Maharaja Casino by Big Daddy Ship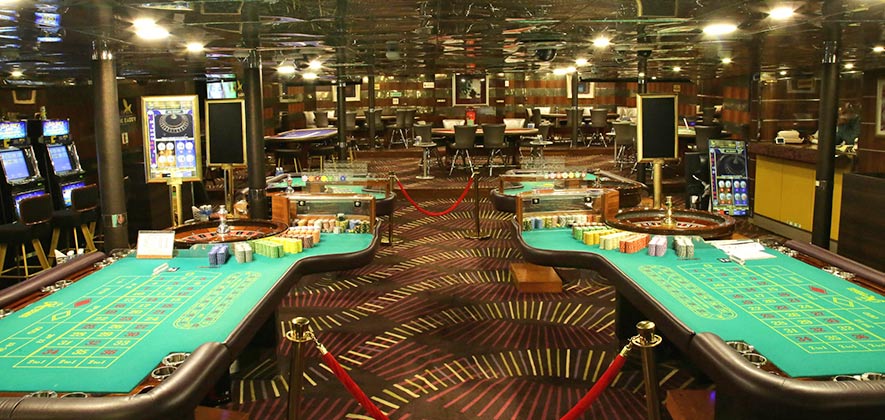 Maharaja Casino By Big Daddy, Goa is a top player in the category Casino in the Goa. It is located at Captain of Ports Jetty,Dayanand Bandodkar Marg, Patto Colony, Panjim 403001, India. It is open 24×7. Coming to the prices, it has various packages for its customers according to their wishes and payability. The packages include ladies package ,regular package, premium package, VIP package and group package each offering different number of one time play chips and providing access to different services including unlimited snacks and buffet dinner, unlimited premium and house brand drinks, live entertainment and many more. However the VIP package can grant you the access the waterfront deck which other packages cannot. One should keep in mind that the packages have different rates on weekdays and weekends with VIP package being an exception that has the same rate on all days.
It also has arrangements of various entertainment programs for its customers which include live dance performance, live orchestra, DJ Nights and Poker nights. It has a stock of diversity of games namely Baccarat, Roulette, Andar Bahar, Rashi Wheel, 3 Card poker, Black Jack, Rummy and others that are a feast for gamble lovers. So if you are adventurous and fun loving, then Maharajah Casino should be definitely in your bucket list.
7) Casino Deltin Caravela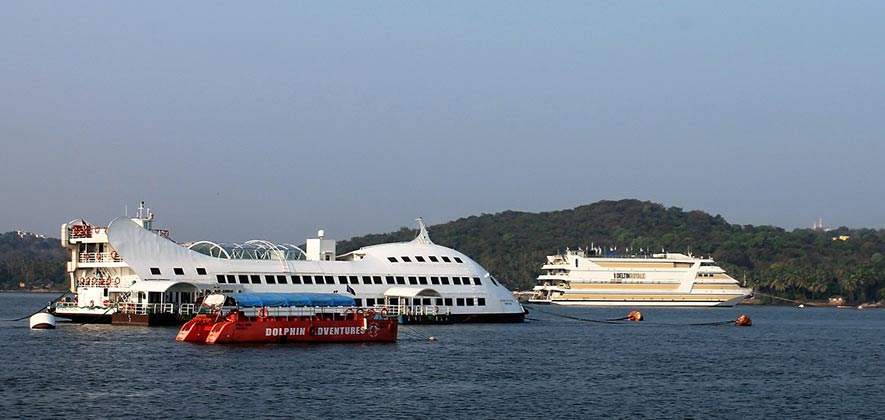 Whenever we discuss about goa, the first thing that comes in our mind are the beautiful beaches, sea, coasts etc. Goa tourism has attracted lakhs and lakhs of tourists or we can simply make a statement that "tourism is the backbone of goa" economy. Its known to the world as a Portuguese enclave on Indian soil.
Goa is the place which offers luxurious casino facilities to its tourists. Among them one of the best casino of goa which attracts tourists is Casino Deltin Caravela.
Deltin Caravela is a float on the Mandovi river in luxurious and glorious seclusion. It gives a unique experience away from the noise and crowd pampered with luxuries and amenities.
Casino deltin caravela offers a number of facilities. There are 140 gaming positions, 8 luxurious suits, skylight restraunts, spa, roulette, black jack, 3 card poker, 5card poker, mini flush, casino war, mang patta, etc.
Deltin caravela is a perfect place for those who are mad for gaming. This casino flotal has been designed ro offer them gaming experience for lifetime. The 17 gamung tables, 80 gaming positions, and more than 10 games offer a lot of action and thrill for a prudent player.
They stay here is super luxurious with a choice of 8 luxurious private and semi private suites.
Deltin caravela offers you rhe ultimate relaxation therapy at their spa which refreshes your body and mind. We can conclude the deltin caravela is a perfect place you love to enjoy and explore yourself with luxury.
8) Casino DeltinJaqk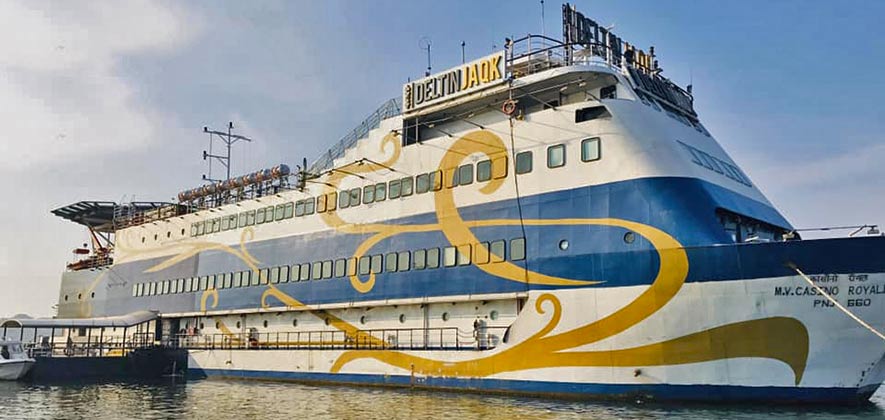 This upscale casino on a ship anchored in Goa's serene river Mandovi is one of the foremost casinos in India, when it comes to best gaming experience along with food and ambience. This casino offers services 24×7. Tourists can easily reach here as its just at a km walk from Panaji bus stand. Once you get here, all you need to do is get an entry pass which is worth Rs. 2500 on weekdays and Rs. 3500 on weekends. For that, you get Rs. 2000 worth of play chips and unlimited food and drinks. The cruise has four floors, the first being the casino for high rollers. The second floor is the main casino. On the third, you will find a buffet and the dining area where you will be entertained by dancers, singers or a DJ. The quality of food served here is pretty good. Worth noting is that drinks are served only at the game tables. There is a bar and an open deck on the fourth floor where you can sit and enjoy smoking and beverages. Now talking about the gaming part; you will get to play a large variety of games at over 350 gaming positions including slot machines. No worries if you are a first-timer. There is a special learner's table for freshers where you can practice the games with the help of a skilled team before you involve in big games. The services are excellent but get hampered once the crowd starts to come up during evening hours, especially in weekends. So overall, this place is a must-go if you are a person who looks for luxury and class.
Deltin Royale is the largest luxury floating casino with 123 gaming tables and India's only dedicated poker room and Indian Flush (Teen Patti). DeltinJaqk is also a floating casino, which is perfect for beginners as they have a special learner's table so you can get to know the game. Casino Palms is although the first choice of any guest who is looking to spend some fun-filled quality time with his family. And if you're worriedthat you've never played, don't worry, there's always a first time!
9) The Zuri White Sands Casino (Dunes) – For The Calm and Composed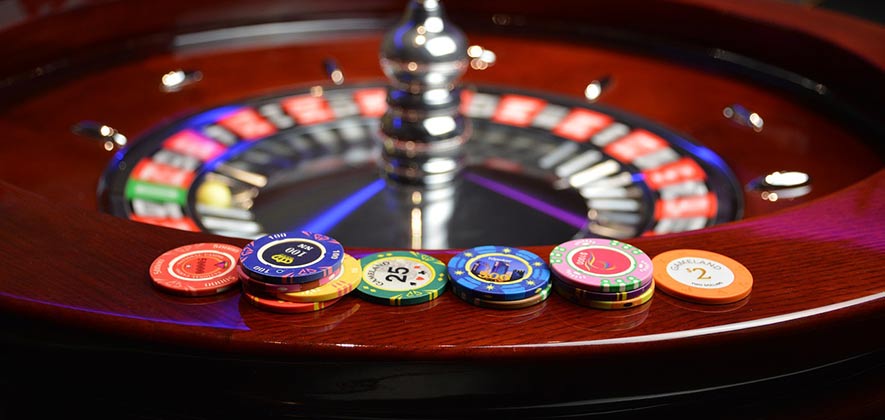 The only onshore casino in Goa, this is a more affordable option. This casino will give you the most comfortable experience with its guest rooms, pools, waterfalls and in numerous amenities. If peace and serenity is your vibe, you should definitely visit this one.
Location: Zuri White Sands Resort, Varca
Timings: Open 24/7
Entry Charges: INR 700
Now that you know which casino to go to, considering which type of person you are, gamble away!

P.S. – We totally support responsible gambling. Whatever you do, keep a lid on things.