1) Eravikulam National Park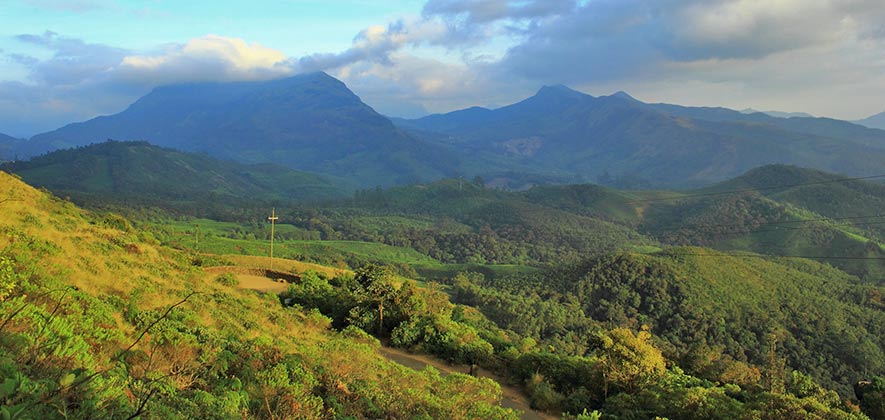 source: flickr.com/photos/nkumarm/8309812656
Endless panoramic grasslands with patches of lush forests, scenic waterfall and a plethora of flora and fauna all are present at the Eravikulam National Park of Kerala in India. The park is located on a high rolling plateau with average elevation of about 2000 m and harbours grasslands, shrublands and forests.
Eravikulam has a rich biodiversity with 26 species of mammals living there including the largest population of the Nilgiri Thar which is its showcase species. Other species include the lion-tailed macaques, gaur, Indian muntjac and sambar deer, Golden jackal, jungle cat, wild dog, dhole, leopard and the majestic royal Bengal tiger.
The park is also home to a variety of birds like Nilgiri pipit, Nilgiri wood pigeon, white bellied shortwing and the endemic black and orange flycatcher which makes it a go to for any birdwatcher.
The national park also has the highest peak of southern India Anamudi which is 2695 meters!
2) Panna National Park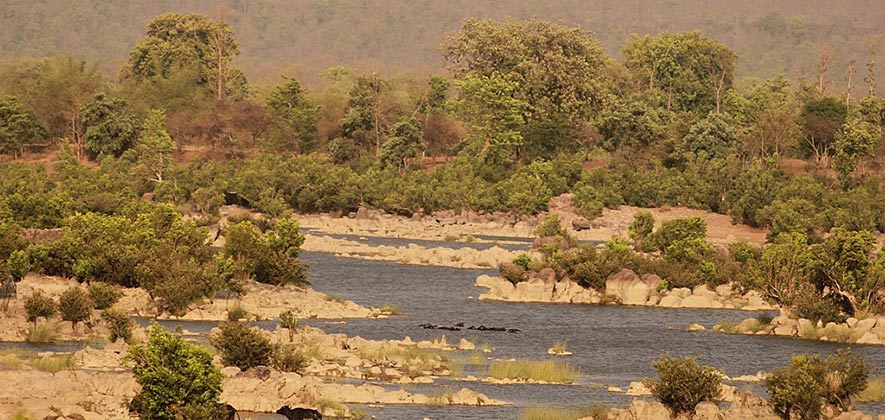 It is the 22nd tiger reserve of the country, covering a vast area of 542 kilometers square, the park is located in Panna and Chahatarpur district of Madhya Pradesh. Panna National Park has been recognized as the best maintained wildlife park in 2007 by the tourism department of India.
This top wildlife destination is located as such the tropical and subtropical dry broadleaf forest belt is broken and upper Gagentic plains moist deciduous forests begin.
The park is home to many species such the tiger, leopard, chinkara, sambhar, nilgai and sloth bear. many birds can also be spotted easily including some rare ones changeable hawk eagle and the Indian vulture.
The population of tigers was eradicated in 2012 due to negligence of officials but efforts are being made to reintroduce the species and are looking successful at some extent.
The place is great to visit at summer if you want to enjoy the boat safari and spot a lot of animals by the river ken. But even if you visit at winters you won't be disappointed and will surely sight a lot of birds in a mild soothing weather.
3) Mudumalai National Park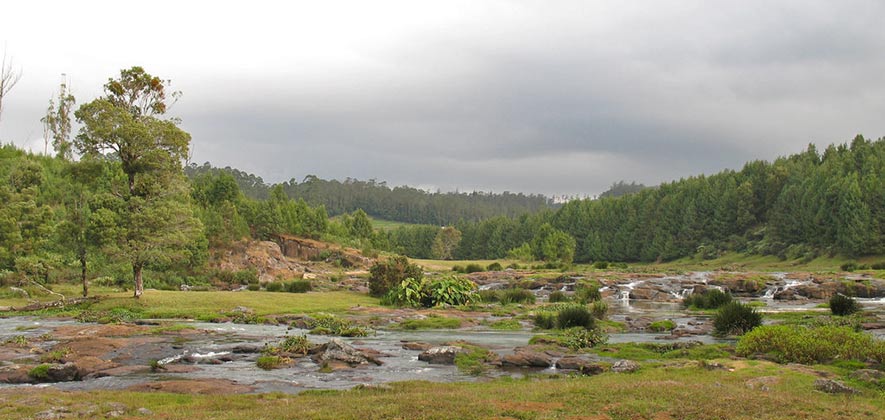 source:flickr.com/photos/ab_aditya/4227286453
In the Foothills of the ravishing blue mountains of the Nilgiri hills lies the Mudumalai National Park and wildlife sanctuary. This park has more than 50 striped royal Bengal lurking around an area of 324 square kilometers in Tamil Nadu.
The national park resides many endangered species such as Gaur, Indian elephant, Indian leopard and the Bengal tiger, in fact Mudumali has the single largest tiger population in India. Many more common species such as the leopard, wild boar, sloth bear, etc can be easily spotted.
Talking about the birds living in the area many of them are carnivorous and some even hunt for fishes, some endangered birds include the crested hawk eagle, malabartrogan, wood owl etc.
Mudumalai has a considerable diversity of animals living in the forests with 55 mammal species, 50 species of fishes, 34 species of reptiles and more than 200 species of birds! Almost 13 percent of mammal species and 80 percent of bird species in India are present in mudumalai, which makes it a must visit for any animal lover.
4) Dandeli Wildlife Sanctuary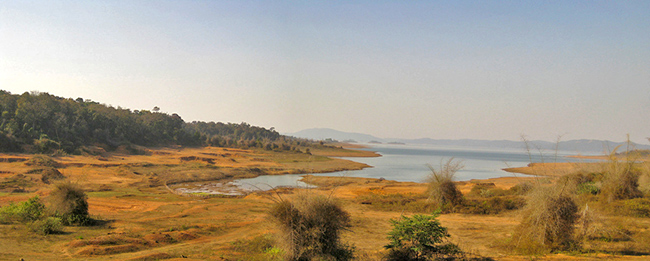 Dandeli Wildlife Sanctuary is considered as the second largest sanctuary in the state of Karnataka. Like others Dandeli wildlife Sanctuary is rich in flora and fauna. Located on the banks of the river Kale, the sanctuary is an ideal holiday destination for nature lovers.
Near Dandeli there's another national park –Anshi national park, together both were declared as Anshi Dandeli Tiger Reserve in 2006. There were several other measures taken by Karnataka government to conserve wildlife including project elephant launched on 4 June 2015. This makes it the second elephant reserve after the Mysore elephant reserve.
It's an absolute paradise for bird watchers with more than 200 species of birds; some of the birds which reside here are grey jungle fowl, bar headed geese, rufous woodpecker and Indian Muller. The forest is a mix of deciduous and evergreen trees including bamboo and team plantations.
Dandeli wildlife Sanctuary provides a perfect getaway. Right from white water rafting trip rafting in Kali River to mountain trekking in the terrains to even spotting rare species of birds BF tigers, Dandeli has it all.
5) Bandipur National Park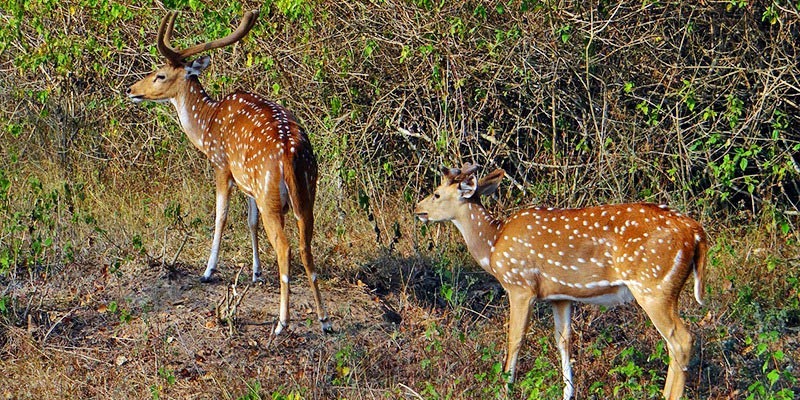 A well protected National park and biosphere reserve. Bandipur National park is located in the southern Indian state of Karnataka, it is one out of nine tiger reserves and was once a private hunting reserve for the maharaja of the kingdom of Mysore but now is taken as Bandipur Tiger reserve.
The park covers an area of 874 square kilometers making home for several species of India's endangered wildlife. It is on the route of the tourist destination Ooty, due to which the route observes a lot of traffic and therefore causing wildlife fatalities each year. This has caused the fear of extinction of habitat of wild animals. In the year of 2018 due to getting hit by a bus at night, the park lost its priciest possession, tusker named as Rowdy Ranga. After this the government put a ban on traffic between 9 pm – 6 am.
Combining with Mudumalai wildlife sanctuary, Wayanand wildlife sanctuary, Nagarhole National Park, it creates India's biggest biosphere reserve widely known as "Nilgiri Biosphere Reserve". It is also a we'll protected ecological portion.
6) Pench National Park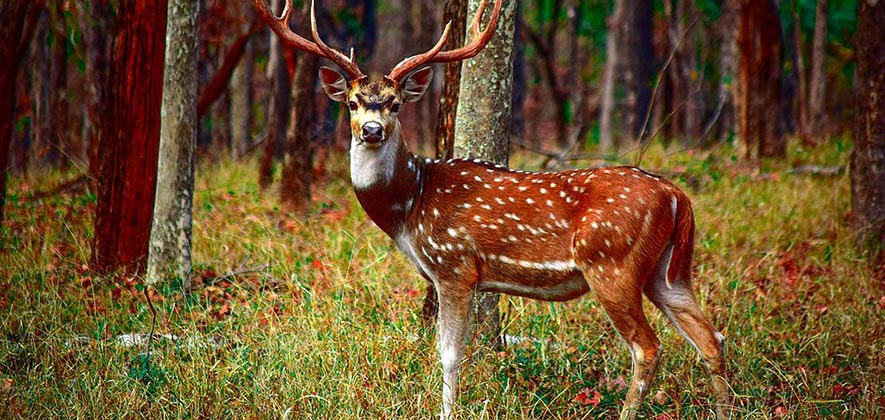 Rudyard Kipling's well known and most loved movie among children 'The Jungle Book ' was shot on this very place. Pench reserve is placed in southern reached of satpura range. The reserve derives its name from Pench river that flows through the national park. It divides the park into two equal halves – eastern and Western distinct.
The park has its own history in being recognized as national park. In late seventies it was stated as a sanctuary but later in 1983 it was given the status of national park. The park has magnificent history; it was depicted in Ain-i-Akbaru (constitution of Akbar). It was written in 16th century by Abu'l – Fazl ibn Mubark. The Pench National park inspired Rudyard to write very famous no el 'the jungle book'. Not only was this but 'spy in the jungle' also filmed in this park itself.
Pench National Park just like others is very much rich in Flora and fauna. It consists of around 25 tigers. Other predators over here are Indian wild hog, jackal, wolf, Hyena etc. It also has more than 170 species of birds and is blessed with thick and verdant forests spread all over.
7) Bandhavgarh National Park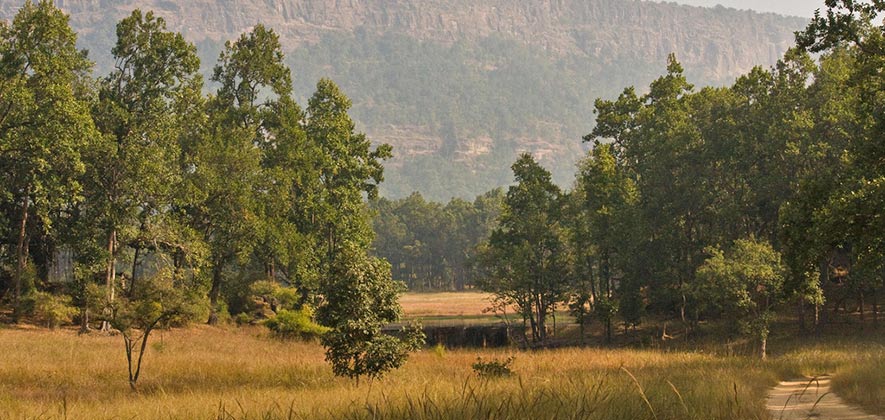 source: flickr.com/photos/garrettziegler/6733541457
To rejoice in the lush green surroundings Maharajas used to maintain Shikargarh or game pressure and one such is Bhandhavgarh National Park. Declared as National park in 1968 Bhandhavgarh National Park, is located the Umaira district of Madhya Pradesh. Park got its name from the most prominent hillock of area, which is said was given to Lakshmana from his brother Rama to keep watch on Lanka. Hence the name Bhandhavgarh (Sanskrit: Brother's fort)
It is known for Royal Bengal Tigers. Tiger population is highest in this Reserve. But recently the park is known for white tigers. They have been attracting large number of tourists. Not only this park also hosts 250 species of birds like browed fantails, green pigeon, and gray malabar hornbills and also is an abode for wild animals like Indian bison, chital, nilgais, jackals and Wild boars etc.
Visitors can enjoy Bhandhavgarh National park through safaris. There are different zones from where one can enter for safari.
Closed for Wednesdays and also from July 1st to October 15th.
8) Kudremukh National Park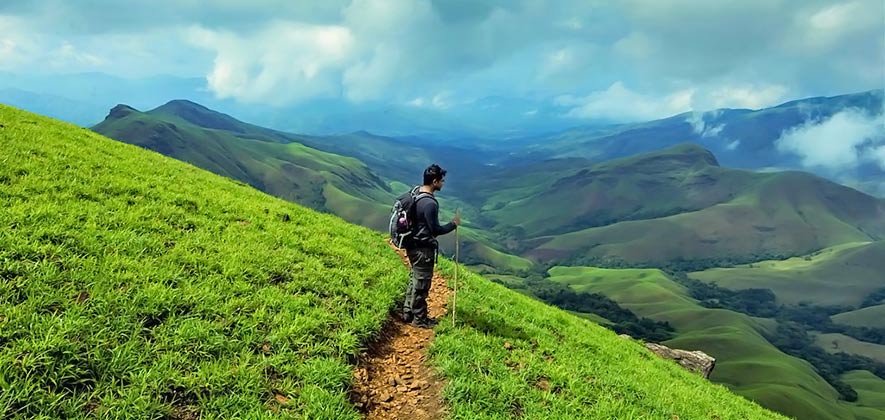 For all nature and wildlife enthusiasts it's a perfect place to ponder, Kudremukh National Park. It is named after eponymous peak which is shaped like a horse face. Located 95km from Chikmagalur, is placed amidst mountain range which creates absolute scenery to spend your day watching. Park is divided into four ranges Kudremukh, Kerekatte, Kalasa and Shimoga. Earlier Kudremukh National Park was an iron ore mining town where the government run Public Sector Kundremukh Iron Ore Company Ltd ( KIOCL) operated till the last decade. In the year 1916, Kundremukh region was declared as reserved forest.
It's a place to visit throughout the year. The park is mostly evergreen near the coastal plains on the Western Ghats. Kudremukh National Park is an absolute package of all the things be it hiking tracks, food, waterfall, plantations and wildlife. Plethora of flora and fauna it has variety like eucalyptus, casuarinas, acacia auriculiformis, Grevillea Robusta and also have tiger, leopard, wild dog, Malabar giant squirrel, common langur, sloth bear, gaur, porcupine, sambar, spotted deer, barking deer, jackal, giant flying squirrel and the mongoose. Rivers like The Tunga, The Bhadra and The Nethravathi are said to have their origin here. It is also encircled by coffee and Tea plantations. Park also has religious importance as it has Horanda Annapoorneshwari temple inside the boundaries.
9) Dudhwa National Park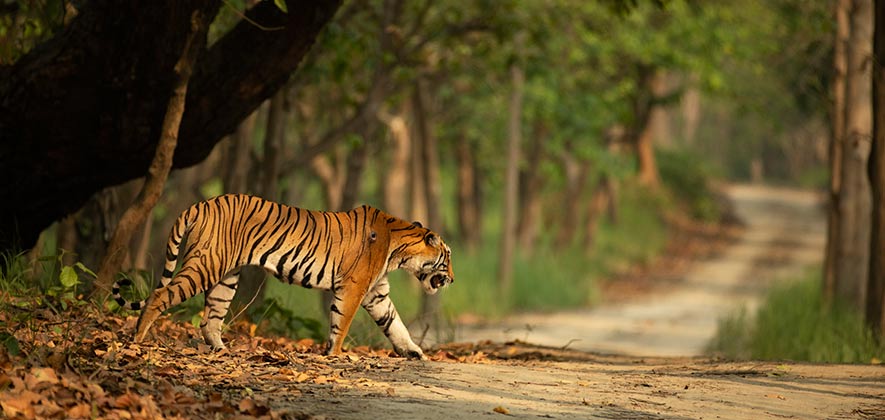 source: flickr.com/photos/varmarohit/42953213704
All the credits goes to Billy Arjan Singh to make this recognized as National Park. It was created by merging Kishanpur Wildlife sanctuary and the Katarniaghat Wildlife Sanctuary. Noted for 'Project tiger', Dudhwa National Park was declared a Tiger reserve. As it covers areas of Kheri and Lakhimpur, it is said to be in Uttar Pradesh. This comes under Terai Belt.
Just like other parks Dudhwa has a variety of fauna, mainly due to fertile plains of Indo-Ganges. Park is home to rare species just like Hispid Hare that was thought to be extinct was discovered over here. It also includes Sambar deer, ratel, civets, etc and has a rich bird life including great slaty wood pecker, Bengal Florican, Swamp francolin. It also boasts a range of migratory birds that settle here during winters.
Besides this park also encompasses streams of Suheli and Mohana. The land of the park is mostly alluvial. Unlike other major parks in India, Jim Corbett, Kaziranga etc is not well commercialized and therefore calls nature enthusiasts to spend day or two in peace and close to nature.
10) Nanda Devi Biosphere Reserve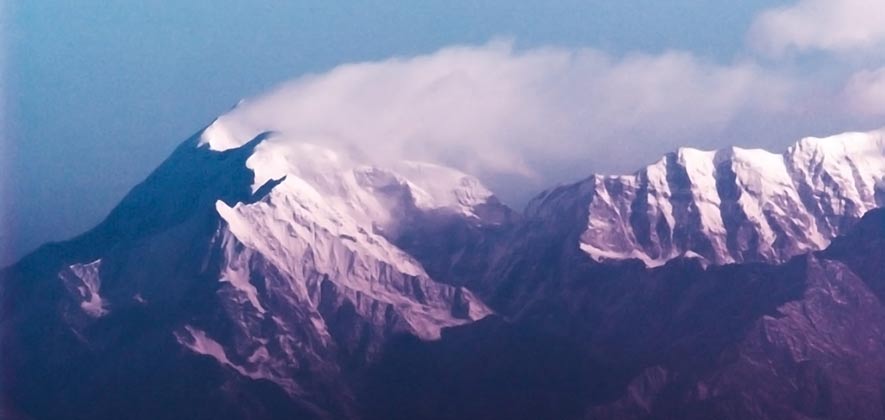 source: flickr.com/photos/pediddle/327785727
In the locale of Nanda Devi, the second highest peak in India, is established the Nanda Devi National Park. The park is known for its unique flora and fauna all over the world. UNESCO, one of the institutions of UN declared the park as World Heritage Site. It's vicinity includes Valley of flowers, Badrinath Temple and Hemkund Sahib. Nanda Devi, named after Devi, consort of Shiva, is a manifestation of Parvati and has been revered since ancient times.
The park history lies way back. W.W Garden was the one to reach in this region but couldn't get successful in making this place notified. But in 1936, Tilman and N.E Odell marked the place and opened the doors for the others to notify. Due to this in 1939, the region became a game sanctuary. Until 1950s park remained undisturbed but later humans started expedition. Therefore government declared it as a National Park in 1982 and later gave it the status of Biosphere Reserve.
Along the lines, Nanda Devi Biosphere reserve has array of species like Bharal, Himalayan Tahr, serow, Brown bear, Goral, common langur, etc. Almost 80+ species have been spotted in the park. Whereas talking about flora - Mixed temperate and subalpine are the types found over here.
11) Hemis National Park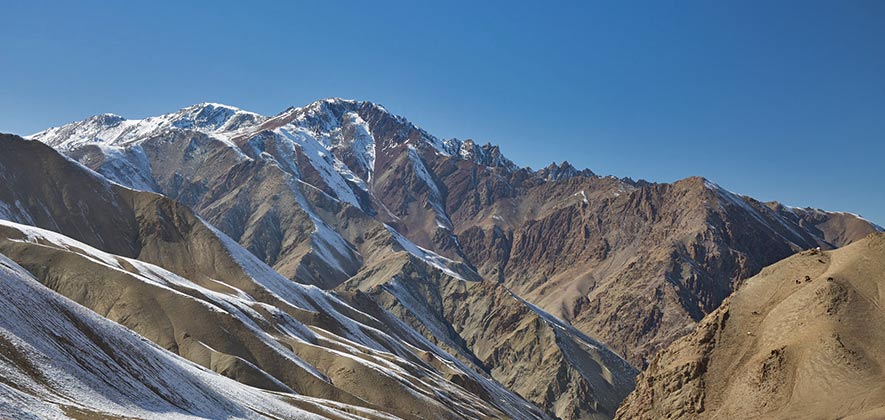 source:flickr.com/photos/davidnunn/25641823560
The National park is not only shelter for mammals but also for humans. Park is situated in Ladakh region of the state of Jammu and Kashmir. It is the only national park in north of the Himalayas. One can call Hemis National Park well liked as - It's globally famous for its Snow leopards, have highest density of them, It is largest notified protected area as well as the second largest contiguous protected area, after the Nanda Devi Biosphere Reserve. The park is attached on the north by the banks of the Indus River, and includes the catchments of Markha, Sumdah and Rumbak, and parts of the Zanskar Range.
As it is home to both wildlife and humans many animal- human conflicts are observed. People living over here, mostly pastoralists raise poultry, goats and sheep. Snow leopards prey on livestock, therefore dominating & killing several animals from a single flock in one hunt. As department of Wildlife Protection, Government of Jammu & Kashmir is the custodian of park therefore special permission is needed for any activity. The department has introduced many projects for conservation and improvement in the livelihood, such as Project Snow Leopard, Ladakh Eco tourism project, Eco cafe for women and Ladakh home stay.
12) Kanchendzonga National Park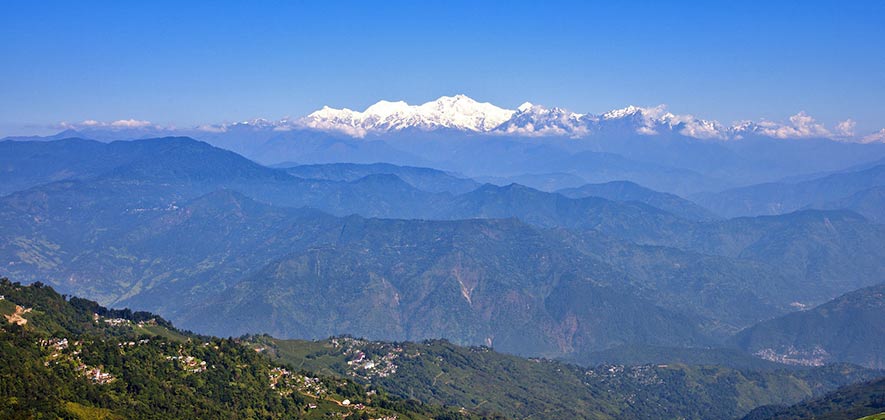 Kanchendzonga National Park adopted its name from the third highest peak in the world kanchendzonga, UNESCO declared it as a world heritage site in July 2016, making it the first "mixed heritage" site of India. Kanchendzonga national park is both a biosphere reserve and a national park in Sikkim, India.
The park is habitation for both humans and wildlife. There are few Lepcha tribal settlements in the park. It also has one the most sacred monasteries of Sikkim – Tholung monastery.
Whereas the park contains many mammals including musk deer, civet, red panda, black beer as well as reptiles including rat snake and Russell's viper. It also has 550 species of birds – lammergieir, snowcock, Sun bird. The vegetation includes temperate. Broadleaf and mixes forests consisting of oaks, fir, mapple, willow etc.
Trekking in the park is a thrilling adventure, the jaw dropping trails and the wildlife encounters are the perfect recipe for adventures.
The national park consists of 5 peaks – Narshing, padim, Simvo, Kabru, and Siniolchu and Thereforeis Known as "five snow peaks ".
13) Chinnar Wildlife Sanctuary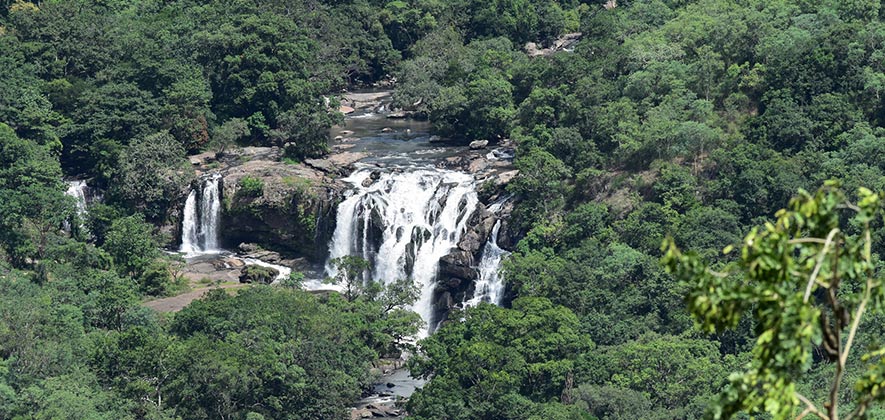 source:flickr.com/photos/picshub/29140912741
Lush green forests, adventurous treks and breathtaking waterfalls you can all find it here in the Chinnar Wildlife Sanctuary of Kerala. The park is rich in flora and fauna and also harbours two beautiful Rivers, the Chinnar and Pambar which provides waters to the forests.
The forests have a diverse biodiversity and inhabit a lot of vulnerable and rare species; the park has twenty eight mammal species including Indian leopard and spotted deer, great Indian elephant, gaur, Bengal tiger, sambar deer, gray langur, bonnet macaque, common langur, Nilgiritahr and rusty-spotted cat. The park is particularly famous for its high populations of the grizzled giant squirrel.
The park also inhabits the largest population of mugger crocodiles in Kerala and a large variety of reptiles, fish, amphibians, spiders and beautiful butterflies.
Chinnar is also a bird watchers haven as it resides over 225 birds including the endemic yellow throated bulbul.
14) Dibru-Saikhowa National Park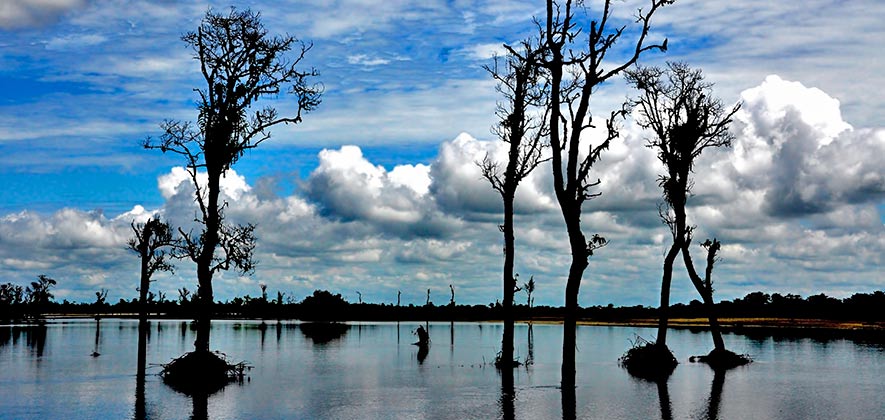 Located in Assam, Dibru Saikhowa National Park is one of a kind experience; it is located on a panoramic river island surrounded by the Bhramaputra, Lohti and Dibru rivers. The park is rich in it's biodiversity being one of the 19 biodiversity hotspots in the world and is one of the remaining few protected sites in the Endemic Bird Area of the Assamese Plains.
Covering an area of 765 square kilometers it harbours semi-evergreen forests, deciduous, littoral and swamp forests and patches of wet evergreen forests spreading all over the park.
The lush forests inhabits many vulnerable and rare species such as the Bengal tiger, Indian leopard, clouded leopard, jungle cat, sloth bear, dhole, small Indian civet, Malayan giant squirrel, Chinese pangolin, Gangetic dolphin, Asiatic water buffalo and feral horse.
The park is also home to a variety of rare and vulnerable bird species which makes it appealing to birdwatchers too. One can spot birds like greater adjutant, ferruginous pochard, Jerdon's babbler, black-breasted parrotbill, marsh babbler, puff-throated babbler and many more.

15) National Chambal Sanctuary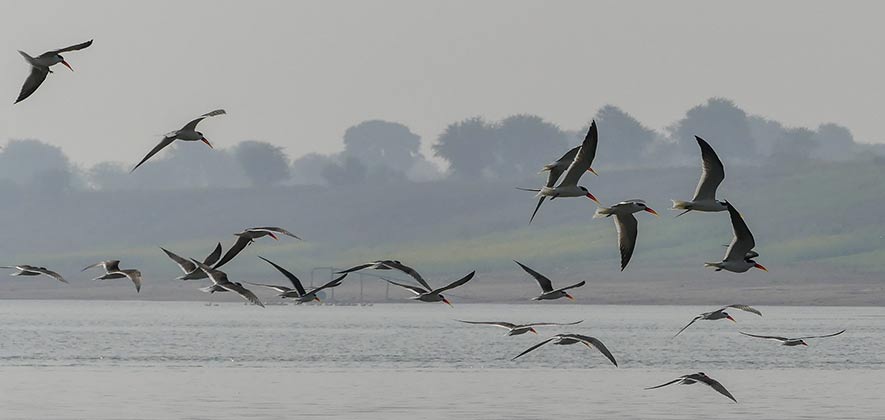 Scenic viewpoints, adventurous boat excursions and historical forts you can all find it here at the National Chambal Sanctuary also called the National Chambal Gharial wildlife sanctuary, covering an area of 5400 kilometers square near the tri-point of Rajasthan, Madhya Pradesh and Uttar Pradesh.
The wildlife Sanctuary just like others offers a variety of biology diversity; the sanctuary houses the critically endangered Gharial crocodile, the red crowned turtle and the Ganges river dolphin which are the showcase species of the sanctuary. the area is also home to 8 of the 26 rare species of turtles found in India including Indian narrow-headed softshell turtle and three-striped roof turtle.
The area also inhabits many mammals like the endangered striped Hyena, Indian wolf, golden jackal Hanuman Langur and Bengal fox.
The wildlife sanctuary is also a bird watcher's paradise as it is a proposed Ramsar site and houses over 320 species of resident and migratory birds including the rare India skimmer and Saras crane
16) Orang National Park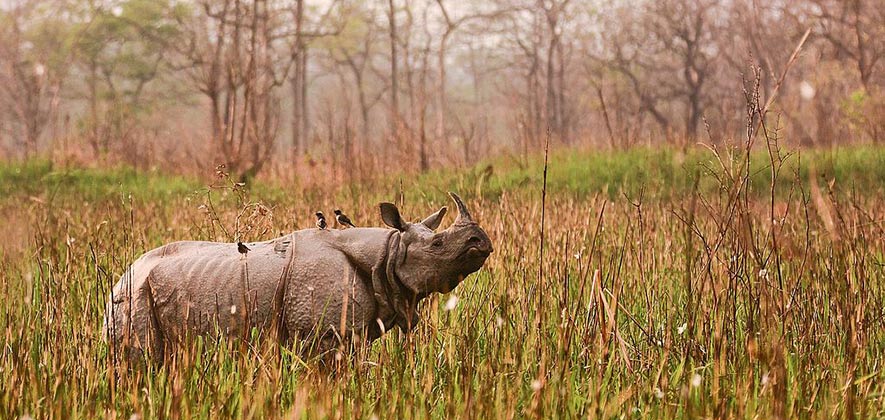 Located on the northern banks of the bhramaputra river in Assam, Orang National Park is a one of a kind experience for any nature enthusiast. Swamp forests, deciduous forests and endless grasslands with rhinos lurking around collectively create the picturesque national park.
The park boasts of a plethora of flora and fauna all year round, heavy vegetation of forests, plants and aquatic plants can be spotted all over the premises.
Orang gives home to a variety of endangered and vulnerable animals; one can sight the mesmerizing parades of Asiatic elephants, the breathtaking Bengal tiger, hog deer, wild boar, pygmy hog and the great one horned rhinoceros which is the national park's showcase species. Other mammals include rhesus macaque, Bengal porcupine, Indian fox, small Indian civet, otter, leopard cat, fishing cat and even the blind dolphin.
The park is also a bird watcher's paradise as reportedly 222 species of birds have been recorded which include predators, scavengers and migratory birds.
17) Nameri National Park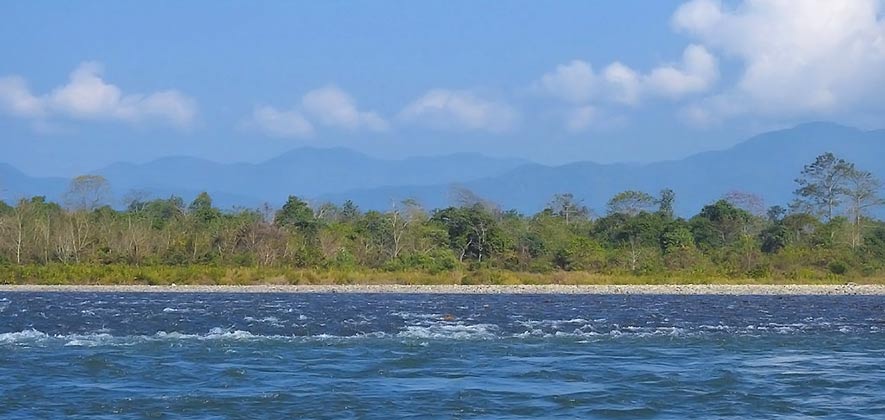 Located in the eastern foothills of the magnificent Himalayan in Assam, covering an area of over 200 kilometers square is the Nameri National Park harbouring semi-evergreen, moist deciduous forests with cane and bamboo brakes, epiphytes, lianas, creepers, clump-forming bamboo, and narrow strips of open grassland along rivers.
The forest resides over 600 species of plants like Gmelinaarborea, Micheliachampaca, Amari and Chukrasiatabularis. the park also hosts a variety of animals including the tiger, leopard, sambhar, dhole (the Asiatic wild dog), pygmy hog, Indian wild bison, clouded leopard, leopard cat, muntjac, gaur, wild boar, sloth bear, Himalayan black bear, capped langur, Indian giant squirrel and is an excellent elephant reserve.
The park is also a bird watcher's delight as it is inhabited by over 300 stunning birds, one can spot The white winged wood duck, great pied hornbill, wreathed hornbill, rufous necked hornbill, black stork, ibisbill, blue-bearded bee-eaters, babblers, plovers and many other rare birds!
18) Namdapha National Park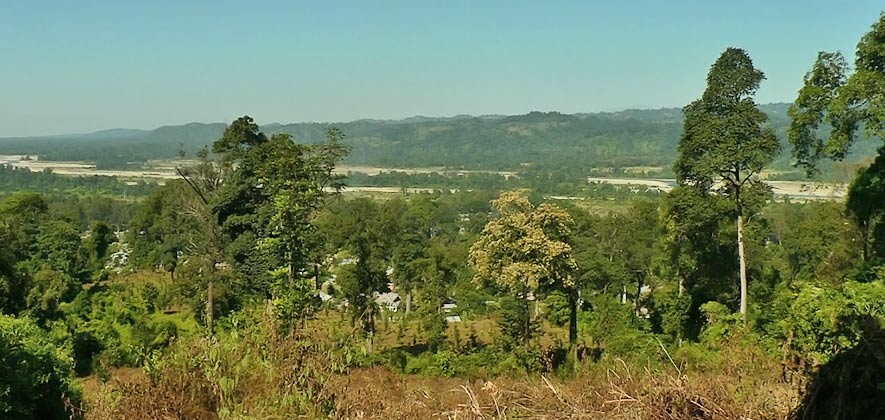 Located in Arunachal Pradesh of north east India, Namdapha National Park is a ecological hotspot boasting more than 1000 floral and 1400 fauna species in Eastern Himalayas, and is one of the biggest national parks in India. The park spreads over an area of about 1985 square kilometers and nurses beautiful extensive dipterocarp forests.
The park has a rich biodiversity because of different types of Forests being present there, it harbours big magnificent cats like snow leopard, clouded leopard, common leopard and Tiger. The endangered red panda is also present along with other predators such as Himalayan bear, dholes, wolves, Asiatic black bears.
The herbivores living here are elephants, wild boars, forest musk deer and many more. Seven species of primates also reside here including the stump tailed macaque. The park is also rich in flora with many endemic and vulnerable species like the sapriahimalayana and Balanophora spp. which are rare root parasites.
Apart from the scenic forests the park also has mini zoo and a beautiful museum.
19) Gulf of Kutch Marine National Park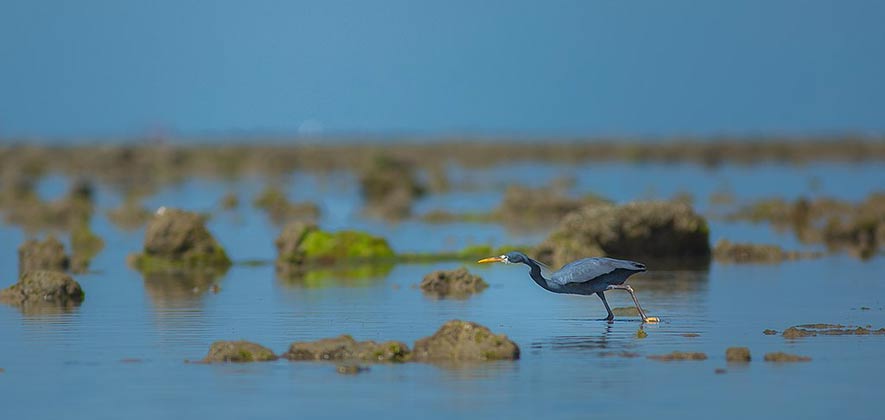 42 breathtaking islands surrounded by corral debris form the Gulf of Kutch Marine National Park which is located on the southern shore of the Gulf of Kutch, Gujrat and is the first marine sanctuary and marine national park of India.
The species of various animals will surely bedazzle you, 27 species of prawns, 32 species of crabs, lobsters and shrimps, molluscs like pearl oysters and seas slugs even octopuses that change can change color are present here! apart from common fishes more endangered ones can also been seen such as the puffer fishes, sea horse, sting ray, mudskippers and whale sharks. The park also inhabits endangered sea turtles and large mammals, actually the largest mammal the blue whale!
Other whales, dolphins and sharks are also seen in the deeper seas. The area is also a favorite spot for birdwatchers as it inhabits a greater flamingo colony reaching up to 20,000 nests! The islands are rich in biodiversity, the beaches the clear waters coral walks and fascinating creatures create this heaven for any person looking for a clam and serene environment.
20) Silent Valley National Park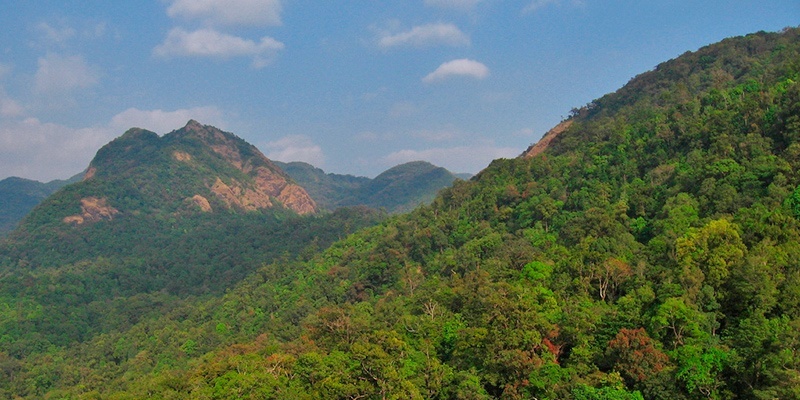 Inhabiting some of the most rare and vulnerable species Silent Valley National park is located in the magnificent Nilgiri Hills with an area of about 90 kilometers square, and is the only undisturbed tropical evergreen rainforest for India.
Many species of animals can be found here, mammals includes the endangered lion tailed Macaque, elephant, Tiger, Nilgirithar, Malabar giant squirrel and many more large mammals such as deer and gaur.
Large population of birds also inhabit the forest more than 16 species of birds are categorized as threatened or restricted including the Nilgiri wood pigeon ,Malabar parakeet, grey headed bul-bul and Nilgiri blue Robin. Rare species such as the ceylon frogmouth and the great Indian hornbill can also be spotted.
It is one of the most biological diverse areas on the planet, these thick forests with huge trees and heavy undergrowth will surely give an enticing adventure to a nature enthusiast!
21) Valley of Flowers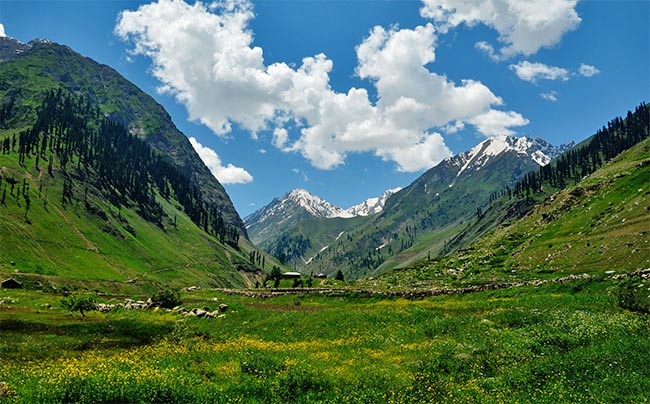 Blessed with the plethora of flowery meadows, eye-catching waterfalls and mammoth peaks in the west Himalayas is the Valley of Flowers National Park in Uttarakhand which covers an area of 87.5 kilometers square, now recognized as a world heritage site.
The place has been revered by the Hindu mythology and is an all time favorite of mountaineers and botanists. The park is famous for its variety of endemic flower species and meadows of Alpine flowers. Although the number of animals here is low but they're all endangered, including the Asiatic black bear, snow leopard, red fox, musk deer, brown bear etc.
Rare birds such as the Himalayan monal, Himalayan golden eagle, snow partridge, Himalayan snow cock, and Snow pigeon can be easily spotted.
The Valley of Flowers national park is bestowed with more than 650 species of flowers including the blue poppy and cobra lily. It's believed that hanuman brought sanjeevni from this valley only and the magic herb is still believed to be growing here!
22) Gulf of Mannar Marine National Park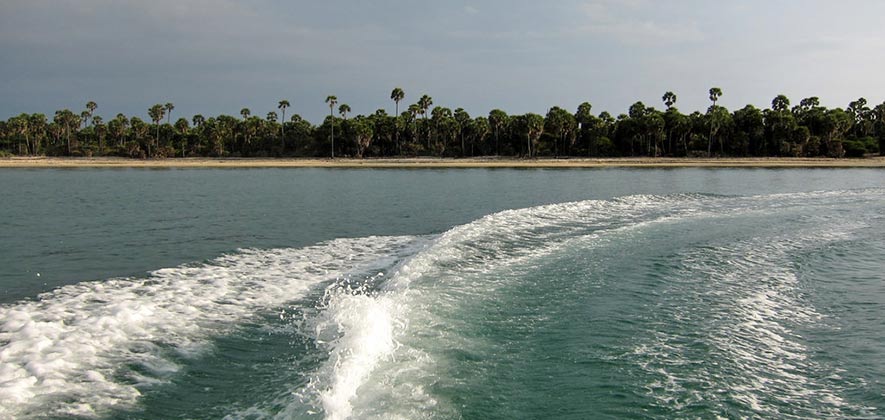 The Gulf of Mannar Marine National park consists of 21 small but stunning islands adjoining coral reefs in the Gulf of Mannar, 10 kilometers away from east coast of Tamil Nadu. Boasting a myriad of plants and animals in its three habitats, the park is also the first Biosphere Reserve of India.
Mainly mangrove Vegetation can be observed in the park on land, 12 species of sea grass and 147 species of sea weed are also present which act as the feeding grounds for the marine life of the gulf.
Many mammals are also present in the premises like indo-pacific bottlenose dolphin, common dolphin, spinner dolphin and the vulnerable specie of dugong, the park also resides large whales such as the sperm whale, minkle whale and even some critically endangered ones such as the largest mammal on earth the blue whale!
Talking about the fish species, the gulf is the most diverse in India with more than 23 percent of the fishes of Indian waters present there.
One can take the glass bottom boat ride to visit the area which is one of a kind experience that will surely connect you with the marine life of India!
23) Simlipal National Park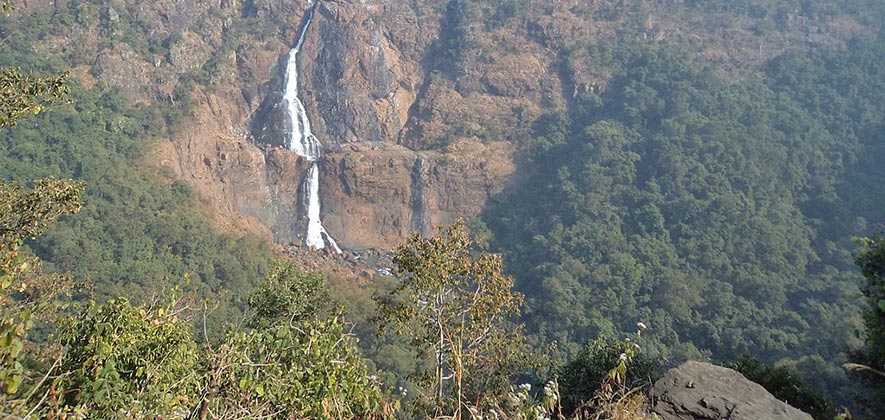 Residing 99 roaring Bengal tigers, thick heavy green forests and beautiful waterfalls lies Simlipal National Park and tiger reserve in the Mayurbhanj district of Odisha.
The Simlipal national park got its name from the regional plant Semul which is a red silk cotton plant. The park used to be hunting grounds for the former royalty of Marurbhanj but now the area has become the 7th largest Indian nation park (2750 square kilometers) and has the status of being one of the eighteenth biospheres of India.
The park is home to more than 42 species of mammals, 29 species of reptiles and 231 types of birds. One can easily stop big ferocious cats such as the royal Bengal tiger and leopards. Big parades of majestic Asian elephants can be spotted easily through the forest area.
Exotic birds such as the Hornbill and big eagles can be spotted gliding through the foliage. The endangered mugger crocodile can be also spotted near the Khairai River thanks to the continuous efforts of the National park.
If one wants to enjoy the scenic and serene atmosphere of a Forest, picturesque waterfalls, beautiful rivers, chirping birds, scented flowers and majestic animals make the dense forests of Simlipal a perfect place.
24) Wandur National Park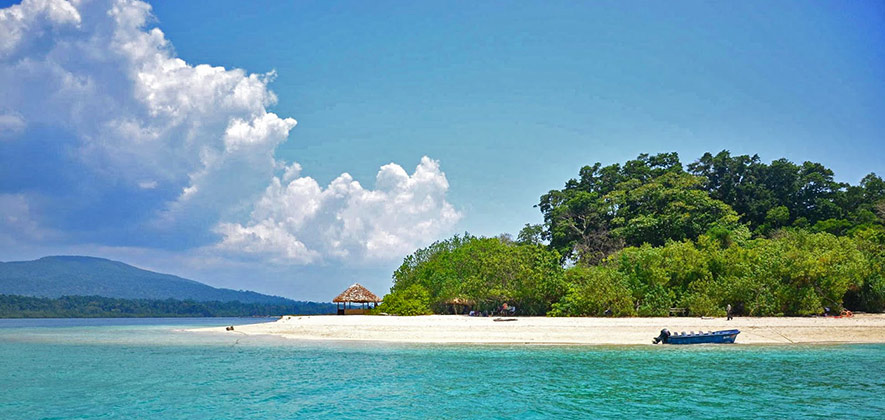 Wandur National park also called as Mahatma Gandhi Marine National Park in Andaman and Nicobar Islands. It was established in 1983 and is located about 30 km from Port Blair.
Whenever we talk about national parks all that comes to our mind are wild animals running around dense forests. But Wandur It is the best Marine national park. It is a park that'll make your eyes pop out with its beauty. When standing stop, one will feel that the forests to be floating in Bay of Bengal. The vegetation almost submerges in the ocean, while roots of the mangrove trees spread deep down into the sea.
Many land animals are found like the Andaman wild pig, spotted deer etc. World's largest turtle species – the leatherback also lives here. Other varieties of turtles are – green turtle, hawkstrill sea turtle and olive Ridleys. Along the sea shores one can find cowrie, TurboTax, starfishes, sea cucumbers etc. Many major reptilian species are found here like the king cobra. It has an array of species in birds too like the Andaman teal, reef herons etc making it a bird watcher's paradise!
The grandeur of the park makes it attractive to more visitors. Best way to experince Mahatma Gandhi Marine National Park is via Jolly Buoy Island Day trip which starts from Port Blair.
25) Betla National Park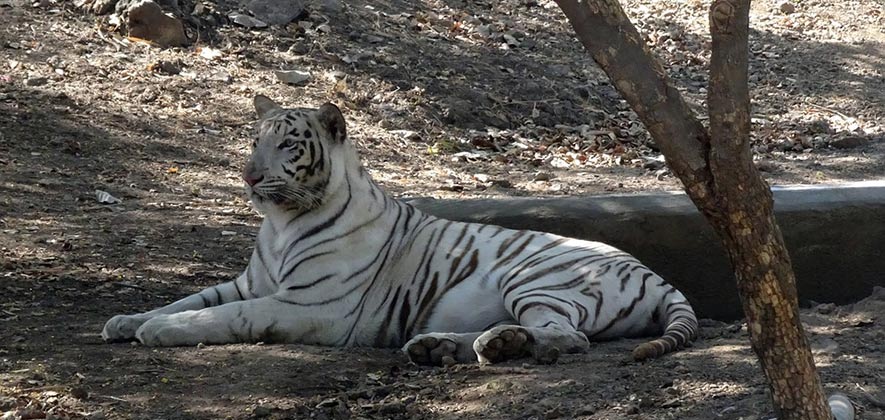 Featuring picturesque waterfalls and soul soothing hot springs besides thick foliage of dense forests lies the Betla National Park located on the Chotta Nagpur Plateau in Jharkhand, covering an area of more than 1300 square kilometers.
The park boasts a variety of mammal species such as the sloth bear, panther, wolf, jackal and hyena. Large parades of elephants can also be seen around the forest, many more animals such as langurs, deer, antelopes and ant civets also reside in these dense forests. The park used to inhabit white tigers too but they were all later transported to zoos.
The park inhabits many birds such as the hornbill and peafowl and many more water birds including geese, whistling, snipe can be spotted near the Kamaldah Lake.
Apart from the heavy foliage mainly consisting of sal, bamboo trees and medicinal plants the park also features two historical forts constructed by the Chero kings!
26) Desert National Park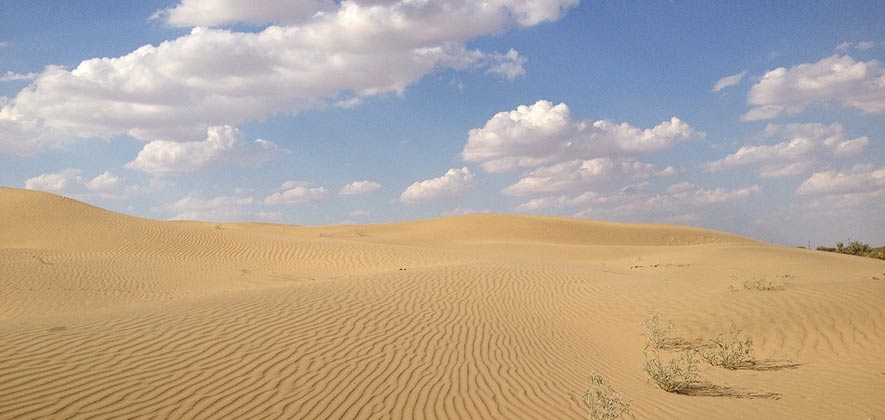 Cragged rocks, compact salt lakes bottoms and picturesque sand dunes comprise one of the largest national parks covering an area of 3162 square kilometers in Rajasthan in the Thar Desert near Jaisalmer, it is the Desert National Park. This park will surely break all the stereotypical notions about deserts lacking flora and fauna.
With Sand dunes make more than 20 percent of the park, the vegetation is patchy and covered with cacti and thorny bushes. Despite the harsh climate conditions the flora and fauna continue to thrive and the park is a haven for migratory and resident birds of the desert.
The park resides antelopes such as the blackbuck, and other mammals such as the wolf, desert cat, chinkara, blackbuck and the desert fox. The park's more prominent attraction is the spectacular bird life there, the park resides many species such as vultures, eagles, harriers, falcons etc. and is particularly famous for the endangered great India bustard.
Besides the flora and fauna the site also had a collection of fossils of animals, birds and even dinosaurs, some of which being more than 180 million years old!
27) Jim Corbett National Park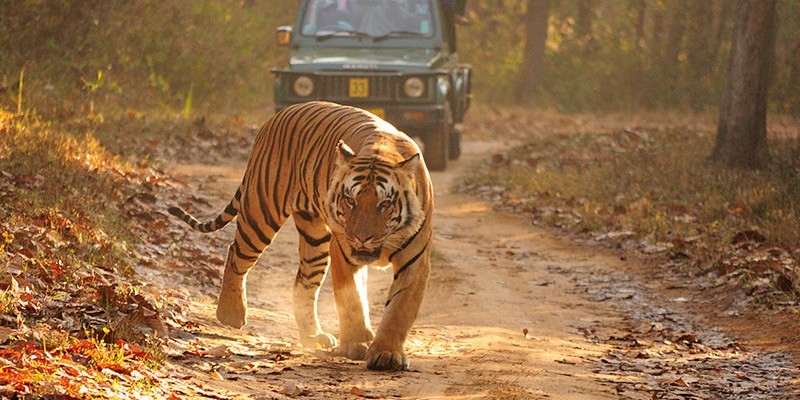 Set up in year 1936, Jim Corbett National park was earlier known as Hailey National Park. It was notable as the place where Project Tiger was first launched in 1973. The Jim Corbett comes under the Nainital district of Uttarakhand. This park is recognised as the father who gave birth of the Project Tiger in India to protect the Royal of India and most endangered species known as Tigers. It is abode of and fabled for its tiger richness.
Stretched over 520 square kilometres, National park incorporates riverine belts, grassland, large lake and hills making it picturesque. By allowing the overnight stat in the lap of the Nature, it holds name in the list of few National parks that allow so. It allows the open jeep safari and viewing wildlife on elephant back. It is resident for more than 650 species as it shelters a healthy population of tigers and rare species like the endemic fish-eating crocodile and Otters. It also has population of migratory birds and more than over 50 species of raptors. Overall it is the finest park of India that is well known for rich and varied wildlife.
28) Sundarbans National Park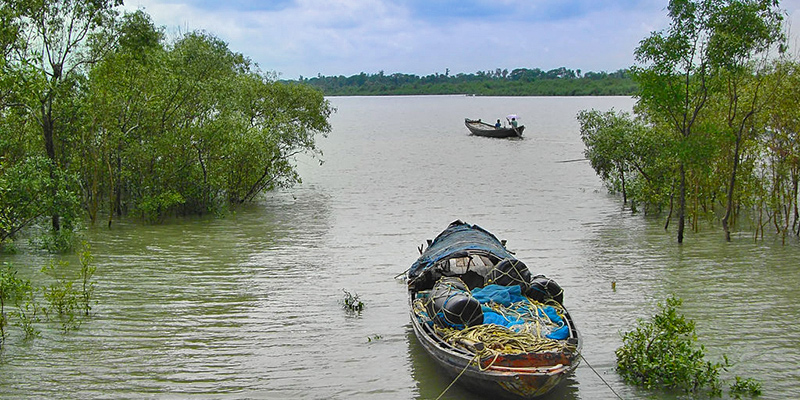 Located in Sundarbans delta in the state of West Bengal (India), The Sundarbans National Park is a tiger and biosphere reserve. It is known as the land of Tigers. The park was accepted as a National park on 4th May 1984 as earlier is it was created as Wildlife sanctuary in 1977. This place borrowed its name from the Sundari trees which are found in bulk in this area.
The Sundarbans is stretched over 10,000 km sq. of land and water in the Ganges delta. Its property is situated within a larger UNESCO Biosphere reserve, designated in November 2001. It is world's largest area of mangrove forests and one of the most biologically productive of all-natural ecosystems. Many rare and endemic species live in the park, including birds, reptiles, mammals and tigers.
29) Ranthambor National Park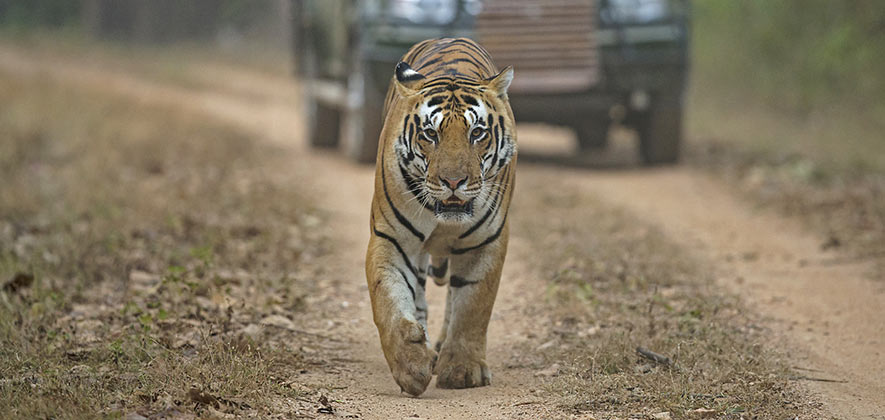 Situated in the Sawai Madhopur district of south-eastern Rajasthan featuring dry deciduous forests and panoramic grassy meadows, Ranthambore National Park is famous for it's easy to spot Royal Bengal Tigers. The park is named after the breath-taking Ranthambore fort that stands tall inside the national park.
Apart from the majestic Royal Bengal tiger, Ranthambore also inhabits the Indian leopard, sloth bear, chital, striped hyena, southern plains gray langur, nilgai, wild boar, chital, sambar, and mugger crocodile. the park is also home to a variety of reptiles, birds and the second largest banyan tree in India!
The park is also home to fierce crocodiles that lurk in picturesque lakes, over 300 species of birds including the rare and endangered great horned owl.
30) Kaziranga National Park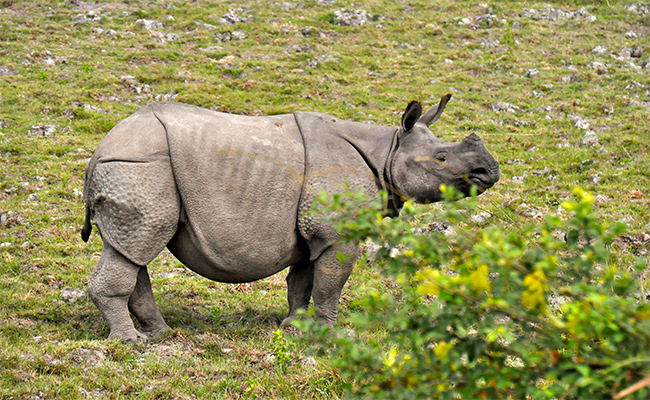 Inhabiting more than two-thirds of the world's population of the greater one-horned rhinoceros and having the second highest density of tigers in the entire world Kaziranga National Park is located in the state of Assam. The park features lush tropical broadleaf forests, semi-evergreen forests, endless panoramic grasslands, and savannas. this variety in vegetation combines high biological diversity and visibility in the park.
Apart from the majestic one-horned rhinoceros, The park is home to 35 mammal species, of which 15 are threatened including the wild Asiatic water buffalo, wild boar, eastern swamp deer, Asian elephant, and big cats such as tigers and leopards.
Kaziranga is also classified as an important bird area as it houses a variety of migratory birds, water birds, and scavengers including the rare fish headed grey eagle, eastern imperial and Blyth's Kingfisher.